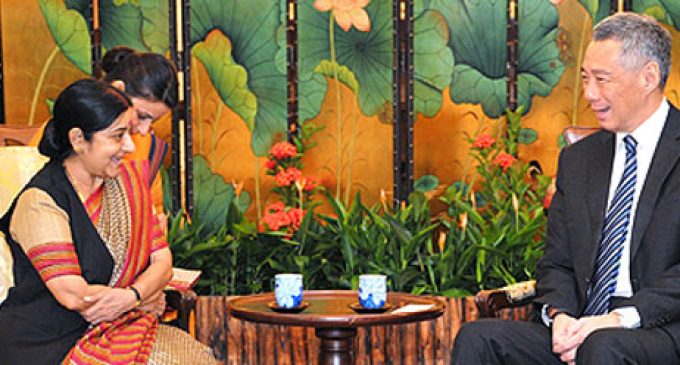 Singapore, Aug 16 India and Singapore Saturday expressed the hope that negotiations for the second review of a bilateral economic cooperation agreement would be completed soon, which would send a positive signal to the business community.
Singapore's Foreign Minister K. Shanmugam and India's External Affairs Minister Sushma Swaraj met here Saturday for talks.
The two leaders welcomed the excellent state of bilateral ties and agreed to work towards a bilateral meeting between Singapore Prime Minister Lee Hsien Loong and Indian Prime Minister Narendra Modi at the earliest possible opportunity, an official statement said.
Both sides hoped that negotiations for review of the Comprehensive Economic Cooperation Agreement (CECA), which was signed a decade ago in June 2005, would be completed expeditiously.
The two ministers are meeting for the second time since their last meeting in New Delhi July 1.
Shanmugam conveyed his congratulations to Sushma Swaraj on the occasion of India's 68th Independence Day Aug 15, while the Indian minister conveyed her best wishes on the occasion of Singapore's 49th National Day Aug 9.
Both ministers agreed that the main highlight of the 50th anniversary celebrations of the establishment of diplomatic ties will be the exchange of state visits by Singapore's President Tony Tan to India and India's President Pranab Mukherjee to Singapore in 2015.
The celebrations will also feature a "Festival of Singapore" in India and the "Year of India" in Singapore, the statement said.
The two leaders expressed satisfaction at the strengthening of bilateral cooperation in areas such as defence and security, economic, culture and people-to-people contacts.
They reaffirmed the commitment of the two governments to elevate the state of bilateral relations.
They also agreed to adopt a proactive and forward-looking approach towards building a closer and mutually beneficial partnership between Singapore and India.
The ministers underscored the importance of the CECA as the cornerstone of the intensifying state of economic relations between the two countries.
Annual bilateral trade has increased from $4.2 billion in 2003-04 to around $19.4 billion in 2013-14.
Singapore was one of India's largest foreign investors in 2013 and is one of India's top investment destinations.
As a follow-up to their last meeting in New Delhi, the ministers agreed that both nations should explore further areas of collaboration and mechanisms to implement the initiatives.
Shanmugam and Sushma Swaraj directed their officials to identify concrete projects in five focal areas of cooperation — scaling up investment and trade, speeding up air and maritime connectivity and coastal development, smart city development and urban rejuvenation (including water and waste management), skills development and capacity building, and state focus to strengthen business and cultural links.
Both ministers also looked forward to the signing of the Services and Investment agreement of the ASEAN-India FTA by the end of 2014 and expressed confidence that the ASEAN and India could work together to advance the Regional Comprehensive Economic Partnership (RCEP), the statement said.