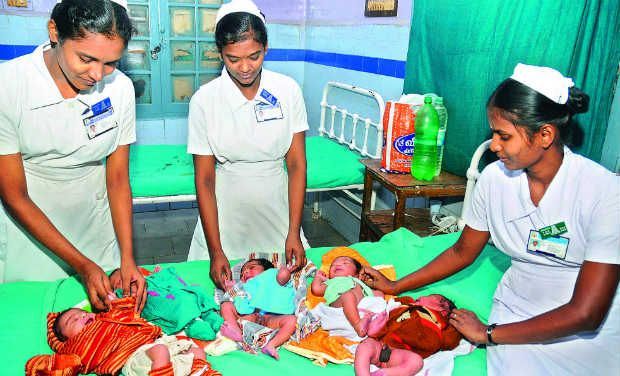 New Delhi/Thiruvananthapuram, July 3 (IANS) Sunni insurgents Thursday forced all 46 Indian women nurses to move out of a hospital in Iraq where they had been holed up, injuring three of them, and were taking them to Mosul city, officials said. The nurses were being treated well.
According to a source close to Kerala Chief Minister Oommen Chandy, a Indian male nurse in Iraq was keeping the chief minister informed of all developments concerning the women, all of whom hail from Kerala, since he was in contact with them.
The male nurse, who is also from Kerala, told Chandy that he had talked to the nurses, who said that they were on way to Mosul and given food and water on the journey by a four-member team of insurgents, who were escorting them.
The nurses were also allowed to speak with their relatives back home.
"These nurses have conveyed through the male nurse to Chandy that they wish to return and both the state and central government should explore all means to see that they safely return to India," said the source who did not wish to be identified.
Chandy, who is camping in Delhi, had earlier said that was "no reason for any anxiety" as the nurses were moved in three buses from Tikrit by the insurgents who control large parts of Iraq but that time, unable to say where they were headed.
IANS was the first to report that the nurses had been told to board buses by unknown men.
The external affairs ministry said separately that some nurses suffered "minor injuries" during the shifting but that all of them were safe.
At a press conference later, the Kerala chief minister said: "…at the moment there need be no reason for any anxiety. There was an incident at that time and three nurses suffered minor injuries."
Chandy, flanked by three cabinet colleagues, however, was silent when asked if the Indian embassy in Iraq was negotiating with the Sunni insurgents after the shift from Tikrit, the hometown of deposed and executed Iraqi leader Saddam Hussein.
"I am sorry. We are unable to reveal more information on this aspect due to constraints," he told media persons after meeting External Affairs Minister Sushma Swaraj and officials.
Ministry spokesman Syed Akbaruddin said the nurses were "on the road" but there was no information about their destination.
He said the nurses were not being moved on "their free will".
Asked if the insurgents had shifted them forcibly, Akbaruddin said: "In zones of conflict there is no free will. There are no expressions of free will."
Pressed to reveal who held them, the spokesman said: "Everything need not be said.
"Our understanding is that it is for reasons and interest of their own safety that they have agreed to move out. All of them are safe and unharmed."
He said the nurses had been advised to move by the Indian mission based on the consultations between Sushma Swaraj and Chandy.
Terming it a "difficult time" for both officials in the ministry in New Delhi and the Indian mission in Iraq, he said the government was already trying to secure release 39 Indian workers held by Sunni insurgents in Mosul. He said "they were unharmed but in captivity".
"A situation which is a difficult one, a situation where the Iraqi government is unable to assist at this stage because they are not in control; also a situation where the humanitarian organizations are unable to assist them in any manner," Akbaruddin said.
A total of 25 Indian officials are now deployed in four Iraqi cities – Baghdad, Najaf, Basra and Karbala – to oversee the rescue of stranded Indians.
The nurses had Tuesday refused to board buses brought by "some English-speaking men" to the hospital in Tikrit where they have been stranded for more than two weeks. On Wednesday they were told they would be taken to Mosul.
On Thursday, the insurgents reportedly bombed the Tikrit hospital premises, injuring the nurses, in a bid to force them to leave, reports reaching the Kerala capital said.
Some of the family members of the nurses complained in Kerala that they regretted the lack of adequate action by the Indian government to rescue the nurses.
"We have been told that yesterday (Wednesday) the Bangladeshi embassy officials in Iraq took their nationals in Tikrit to safety," one family member said in Thiruvananthapuram. "Why can't the Indian embassy do what the Bangladesh officials did?"
Chandy refused to comment on the statement.
Akbaruddin said so far about 900 Indians had been provided air ticket to leave Iraq.
A total of 1,500 Indians were registered with Indian authorities to leave Iraq.
Some Indians working in Iraq had not decided whether they wanted to leave or not. "We are committed to helping every Indian national," the spokesman said.
The plight of Indians stranded and held captive in Iraq since the Sunni insurgents started seizing territory has emerged as the first major crisis for the Narendra Modi government.