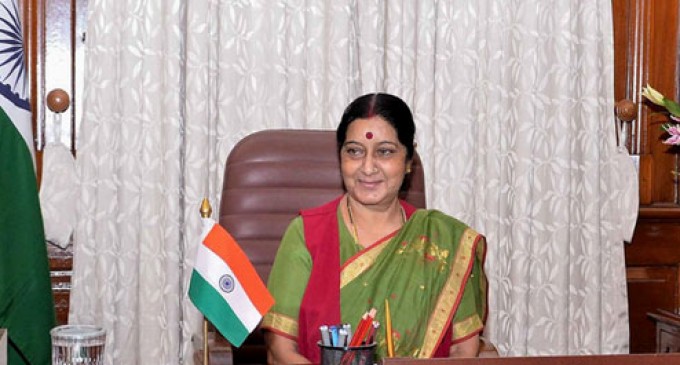 New Delhi, July 6 India and Hungary on Tuesday agreed to boost bilateral trade that has touched $600 million across multiple sectors, including automobile industry, IT and pharmaceuticals.
According to sources, External Affairs Minister Sushma Swaraj and visiting Hungarian Minister for Foreign Affairs and Trade Peter Szijjarto, during a meeting here, expressed satisfaction at the increasing bilateral trade which has touched $600 million.
"Foreign Minister Szijjarto positively assessed Indian investment in Hungary which had reached $2 billion and was providing employment to more than 10,000 people," the sources said.
There are around 15 Indian companies operating in Hungary, including Apollo Tyres, TCS, WIPRO, Mahindra Satyam, SMR Group and Sun Pharma.
Sushma Swaraj called for widening cooperation in IT education, innovation and research and development.
On his part, Szijjarto listed four focus areas for cooperation: automotive industry (31.5% of Hungary's GDP comes from the automotive sector); construction industry especially for affordable housing in which Hungarian companies were keen to enter the Indian market; water and sanitation to assist Clean India Mission; and innovative industries.
The two ministers discussed the prospects of India-EU Bilateral Trade and Investment Agreement (BTIA) in the wake of Britain's exit from the European Union (EU).
The sources said that the two ministers also discussed cultural, educational and cooperation in science and technology.
A joint India-Hungary science and technology fund of two million euros has been created to promote research in agriculture, pharmacueuticals, information and communication technology, nanotechnology and molecular biology.
According to the sources, both sides also discussed defence cooperation and Hungary's participation in the Make in India initiative.
According to a joint statement issued following the following the conclusion of Szijjarto's visit, both ministers jointly affirmed the need for comprehensive reforms of the UN Security Council.
"Both ministers affirmed the urgent need for a comprehensive reform of the United Nations Security Council, including its expansion in both the permanent and non-permanent categories, so as to make it more effective, efficient and representative of the contemporary geopolitical realities," the statement said.
"In this light, the two ministers expressed support for early progress in the Intergovernmental Negotiations on United Nations Security Council reform and reiterated their commitment to move towards text-based negotiations," it added.
The Hungarian minister also shared his country's position regarding the issue of migration from conflict zones in the Middle East and the steps being taken by the the EU in this context.
The issue of nuclear non-proliferation also came up for discussion.
"In this regard, Minister Szijjártó welcomed India's joining of the Missile Technology Control Regime (MTCR) on June 27," the statement said.
Sushma Swaraj, on her part, thanked Hungary for its support for India's membership in the MTCR and its bid for membership in the Nuclear Suppliers Group (NSG).
The two ministers also condemned terrorism in all its forms and manifestations and reaffirmed that any act of terrorism was criminal and unjustifiable regardless of its motivations, whenever and by whoever committed.
Both ministers called for an early adoption by the UN General Assembly of the India-initiated draft Comprehensive Convention on International Terrorism.
Later on Tuesday, Szijjarto also called on Vice-President Hamid Ansari, Minister of State for Commerce and Industry Nirmala Sitharaman, and Union Minister for Earth Sciences, Science and Technology Harsh Vardhan.