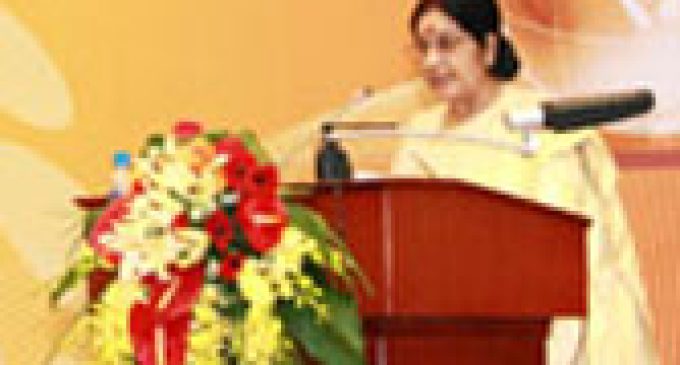 Hanoi, Aug 25 India Monday pushed for greater connectivity with the ASEAN countries as visiting External Affairs Minister Sushma Swaraj Monday stressed that the geographic pathways could be linked to the five Ts – Tradition, Talent, Tourism, Trade and Technology – that the Narendra Modi government is pursuing.
Addressing the Third Round Table on ASEAN-India Network of Thinktanks, Sushma Swaraj said the connectivity with the 10-member bloc should also ensure institution-to-institution and people-to-people linkages.
The minister, who called on Vietnamese President Truong Tan Sang and Vice President Nguyan Tha Doan and held bilateral talks with her counterpart Vietnamese Deputy Prime Minister and Foreign Minister Pham Binh Minh, said the geographical connectivity should be multimodal and integrate land, sea and air connectivity.
She said the connectivity projects would become stronger if "we can bring in the soft infrastructure to advance trade integration and facilitation through joint transit arrangements and allow easier movement of goods and people".
Elaborating on the status of connectivity projects with the ASEAN, she said 160 km of the Tamu-Kalewa-Kalemyo (TKK) Friendship Road as part of the Trilateral Highway from Moreh in India to Mae Sot in Thailand have been completed so far.
"We are committed to another 120 km in the Kalewa-Yargyi sector and the refurbishment of 71 bridges on the TKK road. Myanmar and Thailand are to complete their respective segments."
Sushma Swaraj said India would also begin negotiations on a Transit Transport Agreement between India-Myanmar-Thailand for the Trilateral Highway. She said the Kaladan Multimodal Project in Myanmar, including the port at Sittwe, is heading towards completion.
India is also looking at the possibilities for collaboration in Special Economic Zones Kyaukpyu and Dawei in Myanmar.
She said the economic benefits for the 1.8 billion combined populace of India and ASEAN can be increased by "setting up production and manufacturing networks and creating financial mechanisms to support this integration".
"There are opportunities for creation of infrastructure and capacity in manufacturing and industrial development, for skills training and vocational education, for establishing logistics chains, energy grids and food processing capacities, which in turn would help address issues relating to energy and food security in our region," she added.
Indian companies already have a strong presence in Indonesia, Singapore and Malaysia and are now becoming part of the development story in Myanmar.
"In fact, there is more outflow of Indian FDI to ASEAN countries than vice versa. This will help bring in the necessary momentum to our trade and investment linkages and achieve the target of $100 billion by 2015 and $200 billion by 2020. We can build on synergies in our approach to regional trading mechanisms such as the Regional Comprehensive Economic Partnership," she said.
Sushma Swaraj also stressed at India and the ASEAN looking at "a more functional visa regime between us, with long-term visas for businessmen and professionals and their families".
She said that tourism has tremendous potential which needs to be boosted.
"We need to integrate our business and tourism sectors with better air connectivity. We should find ways of seamlessly encouraging our people-to-people interfaces, which have been our collective strength through centuries."
She said senior officials have been asked to begin work on drafting of the next Plan of Action for 2016-2021.
Sushma Swaraj arrived here Sunday on a three-day visit to prepare the groundwork for President Pranab Mukherjee's state visit to Vietnam next month.