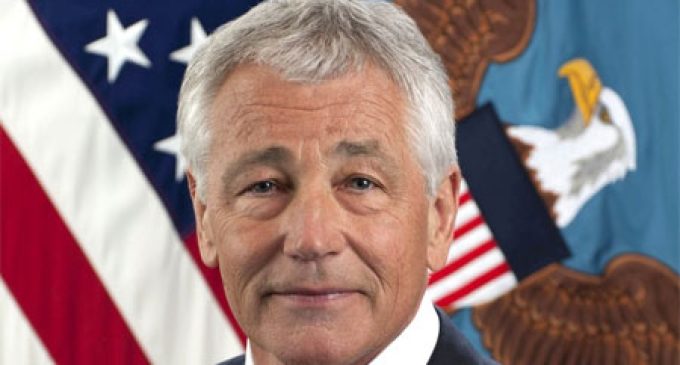 New Delhi, Aug 8 US Defence Secretary Chuck Hagel, here on a three-day visit to "meet with a new Indian government", has said that renewing a 10-year defence framework agreement due to expire next year would be high on the agenda during talks with Indian leaders.
Hagel, who arrived here Thursday evening on a visit aimed at boosting bilateral defence and strategic ties, met External Affairs Minister Sushma Swaraj in the morning Friday before she left for a four-day visit to Myanmar.
Hagel's visit to India, his maiden trip as defence secretary, comes less than a week after that of Secretary of State John Kerry and Commerce Secretary Penny Pritzeker.
He is slated to meet Prime Minister Narendra Modi as well as Defence Minister Arun Jaitley and National Security Advisor Ajit Doval. The visit comes ahead of the summit meeting in Washington between Prime Minister Modi and US President Barack Obama Sep 29-30.
Hagel will also be meeting the chairman of the Chiefs of Staff Committee, Air Chief Marshal Arup Raha.
Ahead of his visit, Hagel said the "point of my trip here is to take advantage of the opportunity to meet with a new Indian government".
"I'm here to pursue different possibilities and options that have been initiated over the years. We have a number of things, specific projects that we will discuss. One is the renewal of the 10-year defence framework agreement," he told reporters accompanying him on the visit.
Ahead of his visit, the union cabinet on Wednesday approved a proposal to raise foreign direct investment (FDI) in the defence sector to 49 percent from the present 26 percent. Hagel said the US was mindful of the sensitivities of India's independence.
"It has been an independent non-aligned nation since it became a democracy. We respect that. We take note of that. The people of India, like the people of any nation, deserve their decision-making space, and how they want not only their country to be perceived, but what foreign arrangements they want to make based on their terms," he said.
The US defence secretary described India as one of the most significant countries in the world which would help shape a "new world order" that is emerging in this century.
"The relationship between the United States and India … certainly for our interests, for US interests, and I think for India's interests, as well as the Asia Pacific, but also global interests … is important.
"And where we can find common interests, where we can share areas that help promote our own countries', our own economies' stability, security, peace, trade, technology, then we need to take that initiative and we need to do that," he said.
He said his visit is aimed to "get acquainted".
"I come about a month before the new Indian prime minister will be in the United States and meeting with President Obama. So this is a … I think an opportune time to spend a couple of days here listening, learning, and getting acquainted."
Hagel referred to the Indo-US civil nuclear deal and joint military exercises.
"So India and the United States begin with a pretty solid framework of general understanding, especially of democratic values and principles, and that's not an insignificant starting point in foreign policy or foreign relations," he said.
According to media reports, technology transfer would also be discussed with the Modi government firm about increasing domestic manufacturing of defence equipment.
Hagel is also slated to meet senior executives of Indian companies like L&T, Tata Sons, Reliance Industries, Mahindra Group, Bharat Forge and Pipavav and also meet executives of US companies in India such as Honeywell, Raytheon, BAE Systems and Textron.
The talks are also expected to focus on India's purchase of 22 Apache attack helicopters, 15 Chinook heavy-lift choppers and four P-81 anti-submarine aircraft. The Apache gunships and Chinook helicopters are both built by Boeing.
The Apache attack helicopters are meant to replace the Indian Air Force's fleet of Soviet-era aircraft and would be armed with Hellfire and Stinger missiles. The Chinook is a twin-rotor helicopter capable of lifting heavy loads.
According to media reports, both sides could discuss a US offer to jointly develop and produce the next generation of the Javelin missile in India for the Indian market as well as for export.