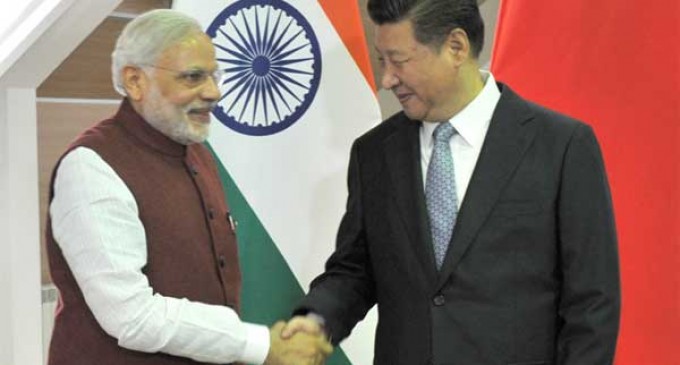 Beijing, April 24 (IANS) China on Tuesday said President Xi Jinping and Indian Prime Minister Narendra Modi may arrive at some important consensus to resolve the "outstanding issues", including the boundary row when they meet at the "unprecedented" two-day summit in Chinese central city of Wuhan.
The leaders of the world's fastest economies will meet at a "one of its kind" summit on April 27-28, which will be keenly watched as the neighbours make an unseen rapprochement in the changing world order.
Both leaders will have a "heart-to-heart" conversation but will not sign any deal or issue joint statement, China's Vice Foreign Minister Kong Xuanyou told a group of Indian and Chinese journalists ahead of the "historic" meet between Xi and Modi.
"The informal summit will not produce any joint document, but leaders of the two sides may reach very important consensus. Such consensus will also help advance the process of resolving outstanding issues," Kong said.
He said this time, both sides decided to hold an informal summit of the two leaders, since both countries "attach great importance to each other and not because the boundary question that remain unresolved and we need to talk about it at the informal summit".
Kong, however, said that the boundary question was very important too. "Both sides need to work together to create favourable conditions and gradually set with proper settlement of the boundary question and deepen cooperation in different sectors along with mutual understanding and trust."
"China and India need to make deep efforts to build mutual trust. The boundary incident which happened last year somewhat reflected lack of trust," he said.
India and China fought a brief, but bloody war in 1962 over their long-winding border. The two sides, which share a border of some 4,000 km, were also locked in a 73-day military stand-off in 2017 near their disputed boundary.
Besides this, there are other pesky issues between the two Asian giants. Kong said both the leaders will have strategic vision and historical responsibility.
"Both of them have been widely supported by their people. Both leaders have attached great importance to India-China relationship and have devoted a lot of energy to grow this relationship.
"Over the past few years they met 10 times, visited each others capitals and home towns. They also met at multilateral occasions," Kong said, adding that every time they had very good talks and reached important consensus.
At the informal summit, they will have strategic communication on the major changes in the international landscape unseen in more than 100 years. They will have in-depth exchange of views on overarching issues, he said.
"Such exchange of views will deepen the mutual trust between the two countries, set the direction and set objectives for the further growth of bilateral ties. It will also open up new prospects in China-India cooperation.
"The summit will not only benefit the two countries but will also deliver peace and development in the region and beyond, he said.
Over the past few days and months, authorities of both the countries carried out intense engagement with each other about the upcoming informal summit to work together for a sound momentum in the India-China relations.