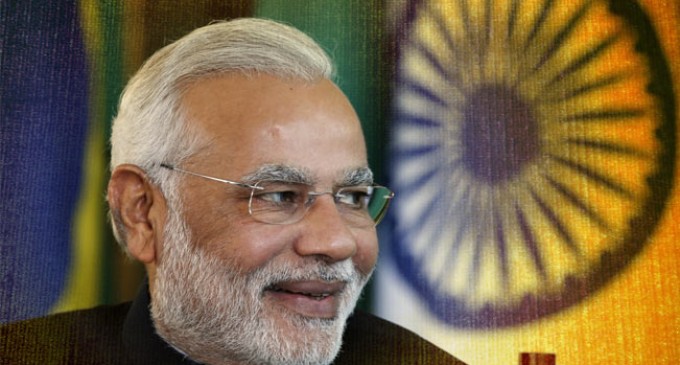 New Delhi, May 13 The shared legacy of Buddhism is a strong link that will run through the China, Mongolia and South Korea visits of Prime Minister Narendra Modi as he embarks on his three-nation tour April 14-19, a journey that is set to see a number of agreements with each country and key talks with Beijing on the border issue, trade imbalance and economic cooperation.
Modi, who leaves Wednesday night, will be in China May 14-16. His first stop will be in Xi'an, the capital of Shaanxi province and the hometown of President Xi Jinping. The two leaders are to hold their summit meeting in Xi'an, which is also associated with Chinese traveler and famous Buddhist scholar Xuan Zang or Hieun Tsang who travelled extensively in India in 629 to 645 AD.
The decision to welcome Modi in Xi'an is a reciprocal gesture in keeping with the Indian prime minister's move to welcome Xi in his native Ahmedabad, Gujarat, in September last year. During his Ahmedabad visit, Xi was taken around a photo exhibition highlighting the Buddhist links of Vadnagar, Modi's hometown, and the fact that Hieun Tsang also visited the place in 641 AD, besides other Buddhist sites in Gujarat.
Accompanied by President Xi, Modi is to visit the Big Wild Goose Pagoda in Xi'an, built by the Chinese emperor Gao Zong in 652 A.D. at the request of Hieun Tsang. He will also visit other places associated with Buddhism and Chinese history and civilization in Xi'an.
He will spend May 15 in Beijing, during which he will hold talks with Chinese Premier Li Keqiang and a number of agreements are slated to be inked.
During talks with Xi and Li, the festering border question is expected to figure, especially in the wake of the state-run Global Times running an article, which says that Modi is "playing little tricks" over the border dispute and security issues. Around two weeks ago, Modi joined the hugely popular Chinese website Seina Weibo, China's adaptation of Twitter, to announce his visit. While he got thousands of followers and many 'likes', there were many who highlighted that Arunachal Pradesh, which they refer to as Zangnan or South Tibet, should be given to China.
Shanghai will be a purely business stop, during which he will meet with top Chinese CEOs and some agreements in the field of investment in India are likely to be inked. He will deliver one public address at the Tsinghua University in Beijing and address a community function in Shanghai.
On May 17, Modi will be in Mongolia, in the first visit by an Indian prime minister. The visit will also have a strong Buddhism link. He will visit the Gandan Monastery in capital Ulan Bator where he will present a sapling of the revered Mahabodhi tree to the chief abbot of the monastery.
He will hold talks with Mongolian Prime Minister Chimed Saikhanbileg after which several agreements are set to be inked. Among the agreements are cooperation in the field of nuclear technology for curing cancer, to set up an Indo-Mongolian school in Ulan Bator, cooperation in traditional systems of medicine, like homeopathy, inking an air services agreement and cooperation in cyber security. Both sides will likely renew a key agreement was signed in 1994, called the Treaty of Friendly Relations and Cooperation.
Mongolia is rich in mineral resources, and has large deposits of uranium. Both sides have inked a civil nuclear agreement which provides for uranium exports to India after the domestic laws in Mongolia permit prospecting and mining. Both sides would be taking it forward, said Anil Wadhwa, Secretary (East) at a briefing on Tuesday.
He will also address the Mongolian parliament, which in a special gesture, will open on a holiday, it being Sunday.
In South Korea, on May 18-19, Modi will hold talks with President Park Geun-hye, whom he has met earlier in November on the sidelines of the East Asia Summit and the ASEAN. Both sides would ink a number of agreements including on Double Taxation Avoidance, plus for cooperation in shipping and logistics, transport, highways, and in new energy industries. Though there is no Buddhism event that Modi will attend, the country has strong links to Buddhism.
On May 19, Modi and Park would attend the 6th Asian Leadership Conference in Seoul. Modi will visit the Hyundai Shipyard at Ulsan, with shipbuilding cooperation a major factor in growing economic ties. Korean consumer companies have a major presence in India and Korean multinationals see India as a promising growth market. There are 300 South Korean companies in India that have invested around $3 billion, employing about 40,000 workers. India is looking for greater access to the South Korean market for its pharma and IT products.
Modi will meet the diaspora in all three countries, with the events in Shanghai and Seoul to be major highlights.
Modi, while interacting with Chinese media ahead of his visit, highlighted the strong potential of India-China ties. "I talked about our shared responsibility to help developing nations, especially in poverty eradication. Asia, being the land of Buddha has the responsibility to ensure that this is a century free from war," he said in a Facebook post on Tuesday evening.
During an interaction with media of South Korea, Modi conveyed that "there can be no better partner than South Korea for 'Make In India' initiative. Spoke about leveraging the manufacturing strength of South Korea, with India's young human resource base," he posted.