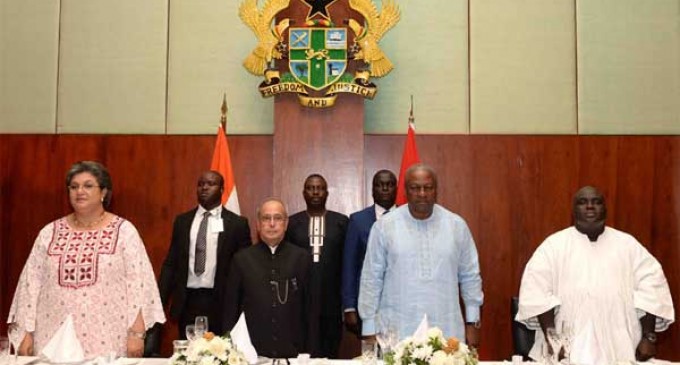 Accra, June 12  President Pranab Mukherjee arrived in the Ghanaian capital Accra on Sunday on the first leg of a three-nation African tour that will also take him to Cote d'Ivoire and Namibia.
Amid the backdrop of traditional Ghanaian drumming and dancing, President Mukherjee was met on his arrival by Ghanaian Vice President Kwesi Amissah-Arthur.
On Monday, President Mukherjee would join Ghanaian President John Mahama for a one-on-one meeting.
A number of agreements, including on setting up a Joint Commission between India and Ghana and on renewal of Cultural Exchange Programme, are likely to be inked during Mukherjee's visit.
President Mukherjee is also scheduled to address the Joint Business Forum and the University of Ghana and later unveil a statue of Mahatma Gandhi gifted by the Indian Council of Cultural Relations as well as plant a sapling at the Flag Staff House (Ghanaian Presidential Complex) — an iconic building built with Indian assistance through a Line of Credit.
According to official figures, bilateral trade between Ghana and India crossed the $3 billion-mark for 2015-16 and India's investment reached $1 billion for the same period.
Similarly, bilateral trade between India and Cote d'Ivoire where President Mukherjee will visit from Ghana, grew from $344.99 million in 2010-11 to $841.85 million last year.
India has also, in the spirit of South-South Cooperation, extended lines of credit amounting to $156.3 million to the Government of Cote d'Ivoire for developmental projects in diverse fields such as public transportation, rural electrification, rice self-sufficiency, cashew nut processing, vegetable oil processing, and coconut fibre processing.
Indian foreign ministry officials say the Cote d'Ivoire visit which is from June 14 to 15, is at the invitation of the Ivorian President Alassane Ouattara. This will be the first ever high-level visit from India to the western African country since the establishment of diplomatic relations between the two.
On arrival in the Ivorian capital, Abidjan, President Mukherjee is expected to be received by President Ouattara. The two Presidents would have a one-to-one meeting followed by delegation level talks.
President Mukherjee is to be honoured with the National Order of the Republic of Cote d'Ivoire, the highest Order of the country and would also be handed the Key to the city of Abidjan.
In addition, the agreement regarding opening of EXIM Bank Representative/Regional branch in Abidjan would be handed over in presence of both Presidents after which President Mukherjee would address a Joint Business Forum and also interact with the Indian Community.
President Mukherjee will depart for Namibia on June 15, for the third and final leg of his tour