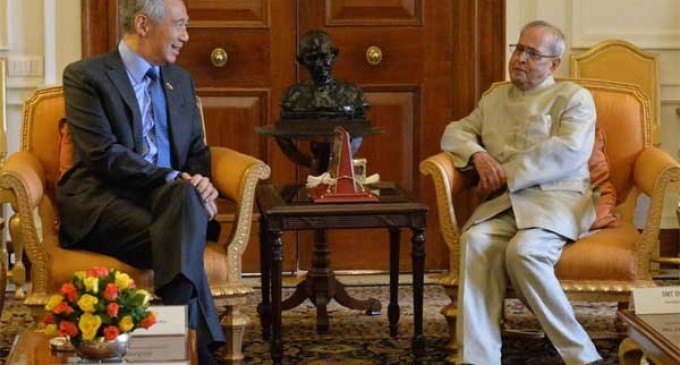 New Delhi, Oct 6  Singapore Prime Minister Lee Hsien Loong on Wednesday strongly condemned the terror attack on an army camp in Uri in Jammu and Kashmir and said it would do lots more with India to fight the terror menace.
"Singapore remains on constant vigil against terrorism. It wishes for peace in South Asia and would like to do lots more with India," Loong said after his meeting with President Pranab Mukherjee at Rashtrapati Bhavan.
Loong also conveyed his condolences on the death of the 19 soldiers martyred in the September 18 terrorist attack. Four militants believed to be from Pakistan were killed after they stormed the Uri army camp. Pakistan has denied any links with the attackers.
During the meeting, President Mukherjee said "both Singapore and India are concerned at growing extremism and terrorism which are a common threat to the whole international community".
Mukherjee said India had been a victim of cross-border terrorist attacks perpetrated by groups which enjoyed safe havens in Pakistan.
The latest terrorist attack in Uri only underlined the fact that the infrastructure of terrorism in Pakistan remains active, he said.
He also said there had been continuous attempts by armed terrorists to cross the Line of Control and international boundary in order to carry out attacks in India.
"As strategic partners, the broadest possible range of cooperation on security and terrorism would be to the mutual benefit of India and Singapore. Both countries must focus on enhancing co-operation on combating terrorism and isolating its supporters," the President said.
The President also conveyed his condolences on the passing away of founding father of Singapore Lee Kuan Yew and former President S.R. Nathan.
Mukherjee said: "We, in India, admire Lee Kuan Yew's vision and ideas. His passing was deeply mourned in India."
The President said that he was happy to note that Singapore was collaborating with the government of Assam in developing a skill centre. "The North Eastern part of India is a natural partner of South East Asian nations," he said.
The President expressed happiness that bilateral trade between India and Singapore has expanded after the conclusion of CECA (Comprehensive Economic Cooperation Agreement) and said: "The two countries need to work together to give trade and investments a boost."
"Investor confidence in India is at an all time high. It is among the most attractive destinations for investment. Singapore companies have experience in India and are familiar with our investment landscape. We hope to see more Singapore companies investing in India," he said.
The President also said that bilateral trade between both the countries peaked to $25.2 billion in 2011-2012. "It has, however, declined to $15 billion in 2015-16."