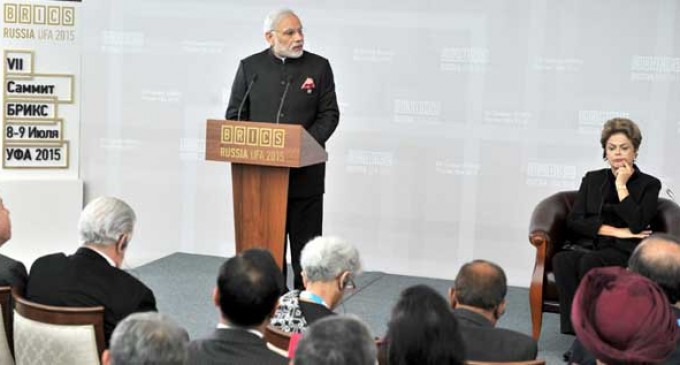 Ufa (Russia), July 9  Prime Minister Narendra Modi on Thursday proposed the BRICS nations host an annual trade fair, adding ed that India would be happy to host the first such event of the five-nation bloc.
"I will propose an annual BRICS trade fair. India will be happy to host the first BRICS trade fair," Modi said in his remarks at the BRICS Business Council meeting at the seventh BRICS Summit.
Modi said that economic cooperation among the five countries of Brazil, Russia, India, China and South Africa is very important and would give a boost to manufacturing.
Modi spoke in Hindi and stressed the five nations should create synergies seeing each other's advantages.
He said cooperation would also give a boost to skill development.
He said the BRICS New Development Bank has become a reality and has an Indian as its head in M.V. Kamath.
He proposed cross-BRICS collaboration and said the $100 billion BRICS Contingency Reserve Arrangement would help calm the economies.
He said customs arrangement among the BRICS nations would be a major step in boosting trade.
The five BRICS countries represent almost three billion people, or approximately 40 percent of the world population and have a combined GDP of $16.039 trillion, or 20 percent of the gross world product.
Russia's Bashkortostan is hosting the seventh BRICS summit and the 15th Shanghai Cooperation Organization (SCO) summit in capital Ufa where around 10,000 visitors are expected during the two back-to-back summits.
The BRICS summit is set to formalize the $100 billion BRICS New Development Bank and a currency reserve pool worth another $100 billion.
Russia assumed the BRICS rotating leadership in April 2015.