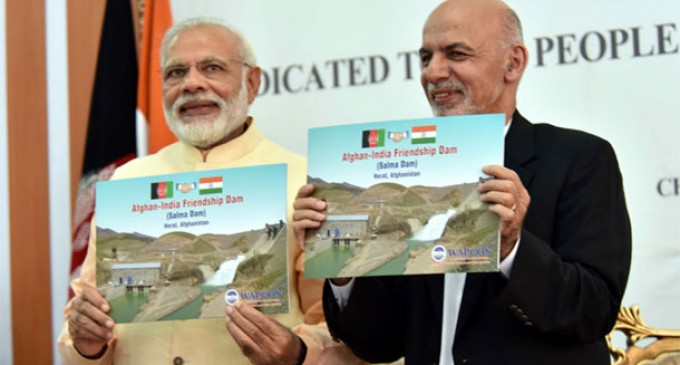 Herat (Afghanistan), June 4  India's development assistance in Afghanistan scaled a new high on Saturday with the inauguration of the Salma Dam in Herat province, as Prime Minister Narendra Modi and Afghan President Ashraf Ghani pressed a button to open the sluice gates of the Rs 1,700 crore mega dam built by India.
Modi, who arrived in Herat on Saturday, reiterated India's commitment to the development of Afghanistan.
Modi was also conferred with Afghanistan's highest civilian honour, the Amir Aminullah Khan Award, by President Ghani.
"Afghanistan's success is a deeply held hope and desire of every Indian," Modi said after the inauguration of the Afghan-India Friendship Dam, also known as Salma Dam.
"It comes from the love and admiration for Afghans in our hearts," he said.
"We want to see your democracy strike deep roots; your people unite; and, your economy prosper."
Modi said his visit to Afghanistan's Herat was not just about launching a project that would irrigate land and light up homes.
"We are reviving a region, restoring hope, renewing life and redefining Afghanistan's future," he said.
"The dam is a generator not just of electricity but also of optimism and belief in the future of Afghanistan."
Apart from irrigating the fields of 640 villages in Chiste, Obe, Pashtun Zarghun, Karokh, Gozara, Injil, Zindjan, Kohsan and Ghoryan in Herat province in western Afghanistan, the hydro electric project is expected to bring light to over 250,000 homes in the region.
"This dam has not been built by bricks and mortar, but by the faith of our friendship and the valour of Afghans and Indians," he said.
Modi said India has partnered Afghanistan in building schools, health centres and irrigation facilities for rural communities.
He said that India's investment in the Chahbahar port in Iran will give Afghanistan "a new route to the world and a new path to prosperity". India, Iran and Afghanistan last month signed a trilateral agreement in Tehran to develop the Chabahar port in the Gulf of Oman for a trade and transit corridor through Afghanistan to Central Asia and beyond to Russia and Europe.
President Ghani, speaking at the inauguration, welcomed Modi to his "second home" Afghanistan and said that with India's help a longstanding dream of Afghanistan has been realised after 40 years.
"The assistance of the people and the Government of India in constructing this splendid dam re-institutes the ancient ties of Herat and India," he said.
"Our people identify India with roads, dams and over 200 small developmental projects."
"Contrary to those who spread chaos and destruction, we two countries have taken the joint decision to build and grow," said Ghani.
Originally constructed in 1976 on the Hari river basin, the Salma Dam suffered extensive damage during the Afghan civil war.
It was built at a cost of approximately Rs 1,700 crore by 1,500 Indian and Afghan engineers, technocrats and other professionals.
Three turbines on the dam will produce 42 MW of electricity and the water will irrigate around 75,000 hectares of land.
The dam is a landmark infrastructure project undertaken by the Indian government and has been executed and implemented by Wapcos, an Indian government undertaking under the Ministry of Water Resources, River Development and Ganga Rejuvenation.
The Salma Dam, which is 20 km in length and three km in width, started filling up its reservoirs in July last year, ahead of its completion. The event had been widely heralded by grateful residents of Herat, who took out joyful processions, beating traditional drums.
A group of local musicians had then gathered at the Indian consulate and sung Indian songs, including Bollywood number "Yamma Yamma", and presented flowers to workers of the consulate — marking their gratitude to see waters flowing in the dam again.
In December last year, Modi had and Ghani had jointly inaugurated Afghanistan's new Parliament building, built by India at Rs 170 crore — another key development project undertaken by India.
India's development assistance programme in Afghanistan stands at around $2 billion, making India the fifth largest bilateral donor.
Modi and Ghani later held a meeting after the inauguration programme.
"Thank you President Ashraf Ghani. We had fruitful discussions on enhancing ties between our nations," the Prime Minister tweeted.
He also visited the Indian consulate in Herat that had come under a terror attack in May 2014 and interacted with the consular staff
Modi arrived here earlier on Saturday on the first leg of his five-nation tour. This was his second visit to Afghanistan in five months, after his Kabul visit in December.
He later left for Doha, Qatar, on Saturday afternoon on the second leg of his tour that will also take him to Switzerland, the US and Mexico.