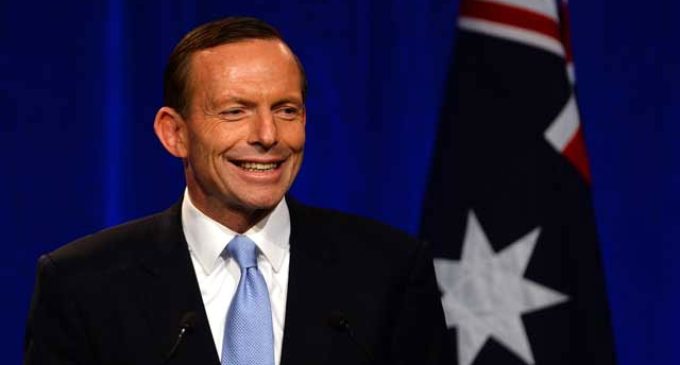 Mumbai, Sep 4 , who began his India visit from Mumbai where he arrived early Thursday with a 30-strong business delegation, said his country wants to make most of the "abundance of opportunities for business" in India.
Addressing businessmen at the Taj Mahal Palace Hotel, Abbott said that India has amazed the world over the past few decades with its growth and development.
"India is the world's second most populous country on purchasing power terms, the third largest economy…. clearly, the emerging democratic superpower of the world, with which Australia has long and warm ties," he said.
He said that purpose of his visit – the first by a non-SAARC head of government – was to acknowledge India's importance in the wider world and inform the people of India what Australia can offer to this country, and build on those stronger foundations.
Abbott recalled his first visit to India 33 years ago as a backpacker tourist and how he watched a bullock cart take material to a nuclear power station in the then Bombay.
"India has changed enormously… 33 years on, there are not many bullock carts left in urban India, and power stations, the nuclear power stations are much more sophisticated," he said, lauding India's progress.
Endorsing his Indian counterpart Narendra Modi's call to "come, make in India" as being close in spirit and intent, Abbott assured that Australia is "open for business".
Though there are opportunities in Australia's vicinity, he said India presents an abundance of opporunties and he was determined to make the most of them by working closely with this country.
Earlier, addressing a gathering of chancellors of several Australian universities and vice-chancellors of leading Indian universities, Abbott announced the "New Colombo Plan" by which thousands of Australian students would come to study in Indian universities from the next academic year.
Presently there are thousands of Indian students studying in Australia, but very few from that country in India, he noted. "This will change now… Australian students will come to study here – there will be hundreds and thousands from next year onwards."
An initiative of Australia, the New Colombo Plan aims at encouraging and supporting undergraduates to study and take up interships in the Asia-Pacific region, he said at a meeting in University of Mumbai.
A memorandum of understanding to this effect was signed between the heads of various universities, including Sydney, Queensland, Melbourne, Western Sydney and Mumbai, Delhi, Calcutta and Mysore.
Abbott also met several top corporate chiefs including Tata Sons chairman Cyrus Mistry, State Bank of India chairperson Arundhati Bhattacharya, ICICI managing director Chanda Kochhar, IDFC executive chairman Rajiv Lall, Kotak Group managing director Uday Kotak and several others.
He then left for New Delhi where he will hold talks with top Indian leaders including Modi and others and call on President Pranab Mukherjee and Vice-President Hamid Ansari.