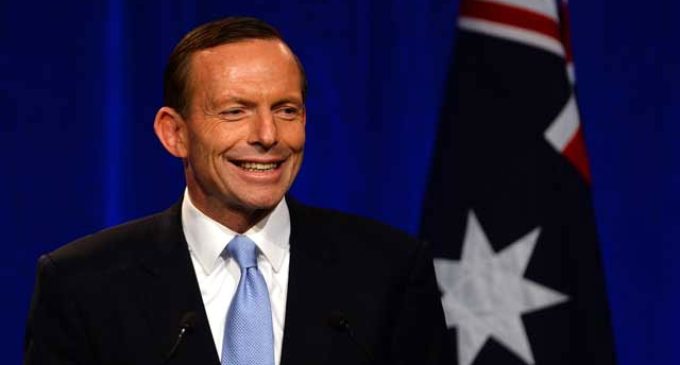 New Delhi, Sep 3 Australian Prime Minister Tony Abbott arrives here Thursday on a two-day visit that is expected to see inking of a nuclear cooperation agreement that would enable uranium sales by Australia to India.
Abbott, who is the first head of state arriving on a bilateral visit to establish contact with the new government, is to hold talks with Prime Minister Narendra Modi Friday during which a slew of agreements are expected to be inked.
Ahead of his first visit to India as prime minister, Abbott told his parliament that he expects to sign a nuclear cooperation agreement with the Modi government.
"I am hoping to sign a nuclear cooperation agreement that will enable uranium sales by Australia to India," Abbott was quoted as saying by Australian media.
Abbott Tuesday said that if Australia was prepared to sell uranium to Russia, then "surely we ought to be prepared to provide uranium to India under suitable safeguards", pointing out that it was a "fully functioning democracy with the rule of law".
Australia, which holds almost a third of the world's known uranium reserves, had banned exporting uranium to India as New Delhi is not a signatory to the Nuclear Non-Proliferation Treaty.
But the countries have been negotiating a nuclear safeguards agreement since 2012 and have held five rounds of "very fruitful" negotiations, said India's external affairs ministry.
Abbott would hold delegation-level talks with Modi and call on President Pranab Mukherjee and Vice President Hamid Ansari. He would also visit Mumbai.
Australia supplies India with coal, gold, diamond and zinc, and India has inked a contract for long-term supply of gas from the Gorgon field in western Australia, Sanjay Bhattacharyya, joint secretary (South) in the external affairs ministry, said at a briefing.
Abbott would be accompanied by a large business delegation of around 30 people, the official said.
Australia, which has water technology projects, has expressed keenness to contribute to the Modi government's Clean Ganga project, the official added.
Over 36,000 Indian students study in Australia, mostly in vocational institutes.
Incidents of alleged racial attacks on Indian students which made headlines in 2009-10 are now a thing of the past with both sides going in for better streamlining of the universities and courses and improved security of the neighbourhood where Indians stay, Bhattacharyya said.
"It is a much calmer environment. There are no more incidents like the past, there are sporadic ones but they are not really related to earlier incidents," he said.
Cricket diplomacy would also figure during the visit.
Abbott would visit a cricket stadium in Mumbai where he would meet cricketers Sachin Tendulkar, Adam Gilchrist and Bret Lee who are organising a cricket club for children.