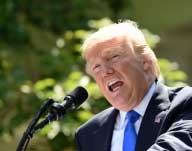 Manila, Nov 13  US President Donald Trump on Monday attended the opening ceremony of the 31st Association of Southeast Asian Nations (Asean) Summit here, where he is set to discuss security issues with his fellow leaders.
Trump posed in the customary group photo and later took part in the traditional Asean leaders handshake, with the Philippine President Rodrigo Duterte standing next to him and with whom he is scheduled to hold a bilateral meeting later on Monday, reports Efe news.
The US President is also scheduled to meet with Australian Prime Ministers Malcolm Turnbull and Indian Prime Minister Narendra Modi during the day.
The Asean summit, which is set to conclude on Tuesday, and which is coupled with the East Asia Summit, includes bilateral and multilateral meets between the US, China, South Korea, Japan, India, the European Union, Russia, Australia, New Zealand and the UN.
Trump will take the opportunity to address "North Korea's growing threat", as he said on Sunday at the end of his state visit to Vietnam, the penultimate stop of his fourth international trip and the first in Asia, that will end in the Philippines and has also taken him to Japan, South Korea and China.
Trump is also expected to coordinate with his regional partners in the fight against the Islamic State terror group, present in the southern Philippines, Malaysia and Indonesia.
His most eagerly-awaited bilateral meeting is the one he will hold with Duterte, the architect of the relentless and controversial "war on drugs" that has left more than 6,000 people dead throughout the Philippines in the last 16 months, almost 4,000 of them died at the hands of the police, according to official figures.
Several organisations have urged Trump to censure Duterte's controversial war on drugs, but in May the US president praised its effectiveness to eliminate drug trafficking during a telephone conversation between both leaders.
The Philippines, Asean's rotating chair for 2017, set the theme of "Partnering for Change, Engaging the World", putting security and regional integrity high on the agenda, reports Xinhua news agency.
At the closing ceremony of the Asean summit and related summits on Tuesday, Duterte will hand over the chairmanship of Asean to Prime Minister Lee Hsien Loong of Singapore, the incoming chair for 2018.
Established in 1967, Asean, which groups Brunei, Cambodia, Indonesia, Laos, Malaysia, Myanmar, the Philippines, Singapore, Thailand and Vietnam, celebrates its 50th anniversary this year.
The Asean Community, with the Political-Security Community, the Economic Community and the Socio-Cultural Community as three pillars, was established at the end of 2015.