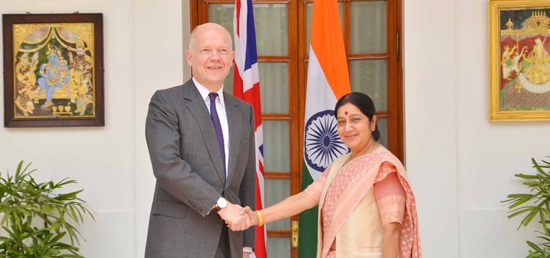 New Delhi, July 8 Economic pattnership between India and Britain remained the focus of discussion as External Affairs Minister Sushma Swaraj Tuesday exchanged notes on a "broad canvas" of issues with her visiting British counterpart William Hague here.
"There were discussions on a broad canvas of issues. The external affairs minister focused on economic ties as these are robust," MEA spokesperson Syed Akbaruddin told the media here.
He said Sushma Swaraj stressed on the Bangalore-Mumbai economic corridor, and assured Hague that a perspective plan would be draen by end of the year to ensure British companies are involved in this infrastructure project.
"There are great expectations from UK that India-UK economic partnership would move to the next level," Akbaruddin said.
Akbaruddin said Sushma Swaraj also discussed people-to-people issues of Indian diaspora in Britain, while also confirming she would attend Pravasi Bharatiya Divas to be celebrated in Britain in October.
Akbaruddin added that Britain was keen for Sushma Swaraj's visit.
"The UK secretary of state said he would use the opportunity to pursue bilateral interaction," he said.
Visa related matter, extradition related issues, particularly the extradition of a paedophile wanted in Goa, skill development of Indians living in Britain, were the major issues discussed, Akbaruddin said.
He added Sushma Swaraj and Hague also touched upon security issues and counter-terrorism.
"The two ministers disccused security issues and counter terrorism. There were also talks on science and technology and nuclear cooperation. They also talked about the security situation im Iraq, Afghanistan, and reform and restructuring of UN Security Council," Akbaruddin said.