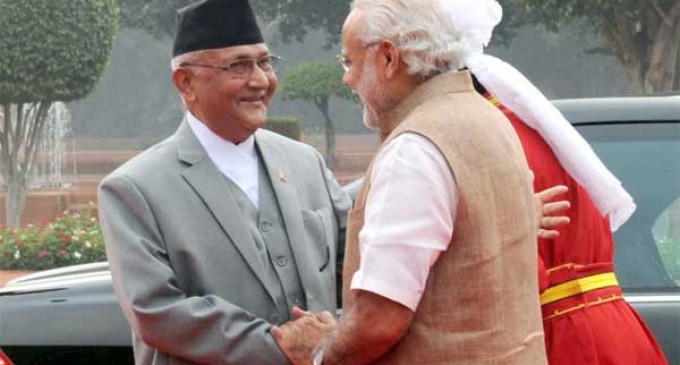 New Delhi, Feb 20  Prime Minister Narendra Modi met his Nepalese counterpart K.P. Sharma Oli on Saturday, the second day of the latter's six-day visit to India.
The two leaders met at Hyderabad House here ahead of delegation-level talks.
"Stepping forward into the future. PM Narendra Modi welcomes PM K.P. Sharma Oli at Hyderabad," external affairs ministry spokesman Vikas Swarup tweeted along with pictures of the two leaders.
This is the first bilateral visit by a prime minister from the Himalayan nation since 2011 when Baburam Bhattarai visited India.
In 2014, then prime minister Sushil Koirala visited India for the swearing-in ceremony of the Narendra Modi-led National Democratic Alliance (NDA) government.
In August 2014, Prime Minister Narendra Modi went on a bilateral visit to Nepal which was the first by an Indian prime minister in 17 years.
Modi again went in November 2014 to attend the South Asian Association for Regional Cooperation (Saarc) summit in Kathmandu.
Earlier on Saturday, Oli was accorded a ceremonial welcome at the Rashtrapati Bhavan, where he inspected a guard of honour.
External Affairs Minister Sushma Swaraj thereafter called on the visiting dignitary.
During the meeting, Oli told Sushma Swaraj that India and Nepal have a natural and civilisational relationship, according to Swarup.
Oli's visit assumes significance as ties between the two South Asian neighbours in the last few months soured after the adoption of a new constitution in the Himalayan nation sparked violent protests in the country's southern plains.