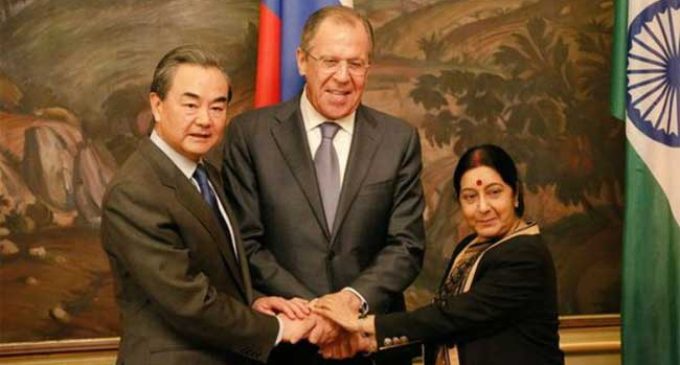 New Delhi, Dec 11 (IANS) External Affairs Minister Sushma Swaraj along with her Chinese and Russian counterparts Wang Yi and Sergey Lavrov held the 15th Russia-India-China trilateral meeting here on Monday.
"Towards global and regional peace, security and stability," External Affairs Ministry spokesperson Raveesh Kumar tweeted of the meeting.
Kumar had said last week that the three countries would discuss global and regional issues.
The Russian Foreign Ministry said on Sunday that the talks were expected to focus on security and trade issues in the region and elsewhere.
The discussions would also include the situation in Afghanistan, the Middle East and the Korean peninsula, it said.
Wang Yi's visit is the first high-level visit from China after Indian and Chinese troops were involved a tense face-off position in the Doklam region of the border earlier this year.