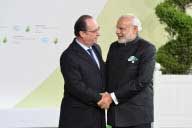 Hangzhou (China), Sep 6  Prime Minister Narendra Modi on Monday raised the issue of leak of confidential data on India's Scorpene submarine project with French President Francois Hollande on the sidelines of the G20 Summit here.
"The issue was discussed," External Affairs Ministry spokesperson Vikas Swarup told reporters here.
Sensitive information related to the combat and stealth aspects of India's Scorpene submarines was leaked from DCNS — the French naval contractor.
The over 22,000 pages that were leaked contained information on different aspects of the vessel, including its underwater sensors, above-water sensors, combat management system, torpedo launch system and specifications, communications system and navigation systems.
The newspaper 'The Australian' has been restricted from publishing any more of leaked documents related to India's Scorpene submarine project by the Supreme Court of New South Wales.
Indian Navy chief Admiral Sunil Lanba has said the Navy views the leak of data "very seriously".