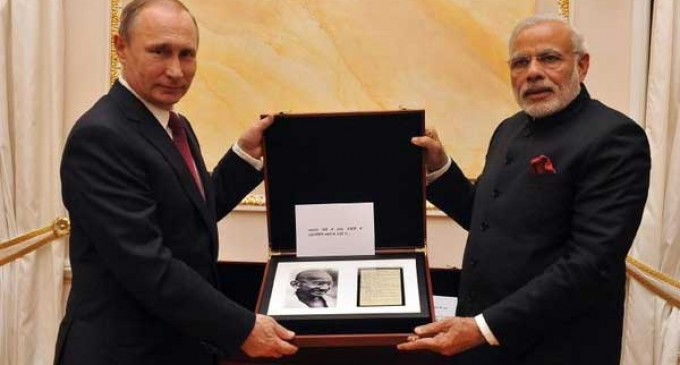 Moscow, Dec 24 Russian President Vladimir Putin presented visiting Indian Prime Minister Narendra Modi a page from the diary of Mahatma Gandhi and an 18th century Indian sword, an official statement said on Thursday.
Putin presented the items to Modi while hosting the latter for a private dinner on Wednesday evening
"President Putin presented to the Prime Minister a page from the diary of Mahatma Gandhi. The page contains Gandhiji's handwritten notes," the Prime Minister's Office said in a statement.
Putin also gifted Modi a late-18th century Indian sword from Bengal province that features intricate silver artwork.
Modi arrived in Moscow on Wednesday to a red carpet welcome for a two-day visit during which he will attend the 16th India-Russia annual summit meeting.
During this visit, a raft of agreements spanning a broad spectrum of sectors are expected to be signed following summit-level talks on Thursday between the two countries with trade being a major focus area.
Modi and Putin are scheduled to meet a delegation of Indian and Russian CEOs in the Kremlin.
Modi will address a gathering of Friends of India and also meet members of the Indian community in Russia.
The prime minister's itinerary includes a visit to Russia's National Crisis Management Centre (NCMC) in Moscow on Thursday.
The NCMC is a multi-level coordination centre designed to provide inter-agency coordination and alert the people about the threat of emergency situations. The capabilities of the NCMC include state-of-art real time monitoring, data collection, analysis and modelling.