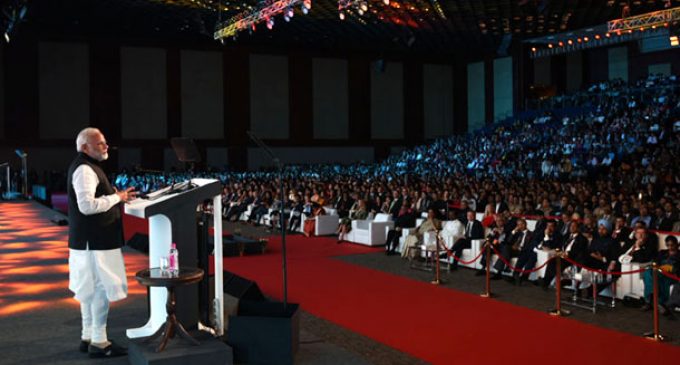 Hyderabad, Nov 28 (IANS) Hard selling India before an international audience that included US President Donald Trump's daughter Ivanka Trump, Prime Minister Narendra Modi invited entrepreneurs from across the globe to invest in India for the world at large by taking advantage of an investment-friendly environment.
"To my entrepreneur friends from across the globe, I would like to say: Come, Make in India, Invest in India – for India, and for the world. I invite each one of you to become a partner in India's growth story. And once again assure you of our whole-hearted support," he said inaugurating the three-day 2017 Global Entrepreneurship Summit here.
He told young entrepreneurs from India that each of them has something valuable to contribute towards creating a New India by 2022. "You are vehicles of change and instruments of India's transformation."
Listing various steps taken by his government in the last over three years in improving the business climate, Modi said the jump in India's ranking in the World bank's Ease of Doing business Report from 142 to 100 in three years was a result of this.
"My government understands that an environment of transparent policies and a rule of law providing a level-playing field are necessary for entrepreneurship to flourish.
"A historic overhaul of the taxation system has been recently undertaken, bringing in the Goods and Services Tax across the country. Our Insolvency and Bankruptcy Code introduced in 2016 is a step towards ensuring timely resolution for stressed ventures. We have recently improved this further, preventing wilful defaulters from bidding for stressed assets," he said.
Touching on demonetisation, the Prime Minister said tough measures have been adopted to tackle the parallel economy, check tax evasion and control black money.
"Our efforts have been recognised by Moody's recent upgrade of India's government bond ratings. This upgrade comes after a gap of almost 14 years."
India, he said, has improved its rank from 54 in 2014 to 35 on the World Bank's Logistics Performance Index. This signifies the relative ease and efficiency with which products can be moved into and from a country.
"An investment-friendly environment needs to be stable from the macro-economic perspective. We have succeeded in containing the fiscal and current account deficits and curbing inflation. Our foreign exchange reserves have crossed USD 400 billion and we continue to attract large foreign capital flows," he said.
Over 1500 delegates from over 150 countries are attending the Summit that is being held in South Asia for the first time with a focus on women entrepreneurs. It brings together leading investors, entrepreneurs, academicians, think-tanks and other stakeholders to propel the global entrepreneurship ecosystem.
The 2017 event will focus on four innovative, high-growth industries — healthcare and life sciences; digital economy and financial technology, energy and infrastructure and media and entertainment.
Modi said the GES summit not only connects the Silicon Valley with Hyderabad but also show-cases the close ties between the United States of America and India. "It underlines our shared commitment towards encouraging entrepreneurship and innovation."
He said India has been an incubator for entrepreneurship and innovation. He gave examples of the ancient Charaka Samhita that introduced Ayurveda and Yoga as various innovations in India.
"The digital world today in based on binary system. The invention of zero, foundation of this binary system happened with Aryabhatta's work in India. Similarly, many nuances of modern day economic policy, taxation system, and public finance policies are outlined in our ancient treatise Arthashastra by Kautilya," he added.
He said the power to think differently and ahead of the times for the betterment of mankind is what sets entrepreneurs apart. "I see that power in India's young generation today. I see 800 million potential entrepreneurs who can work towards making the world a better place."
Modi highlighted the Start-up India programme of the government to facilitate the startup ventures in the country.
Talking about the Mudra Scheme through which government funds the start-up ventures of the country, he said: "As easy finance we give Rs 1 million to the entrepreneurs through this scheme. So far we have sanctioned loans to over 90 million entrepreneurs totalling to Rs 4.28 trillion, out of which 70 million are women."
He also said the direct benefit transfer (DBT) scheme of the government linked with Aadhaar has helped transfer money to the public bank accounts.
Regarding the government's Jan Dhan Yojna, Modi said: "We have opened 300 million bank accounts which have brought Rs 685 billion to the formal channel through Jan Dhan Yojna. Out of this 53 per cent of accounts belong to women."
Underlining the importance of women power in ancient India he said women was looked upon as the incarnation of Shakti or Goddess of Power. "Indian women lead in almost all walks of life."
Modi said from ancient history, freedom struggle to modern day astronomy and sports world women's role in India was remarkable. "More than 50 per cent participants in GES this year are women."
The US State Department and other American agencies in partnership with NITI Aayog, India's think tank, are organising GES, which seeks to create an environment that empowers innovators, particularly women, to take their ideas to the next level.
The delegates include about 400 each from India and the US and the remaining from the rest of the world.
This is the 8th GES which brings together entrepreneurs, investors and eco-system supporters for mentoring, networking and investment matchmaking. This is the first time that the event is being held in South Asia.
Source : Sarkaritel.com