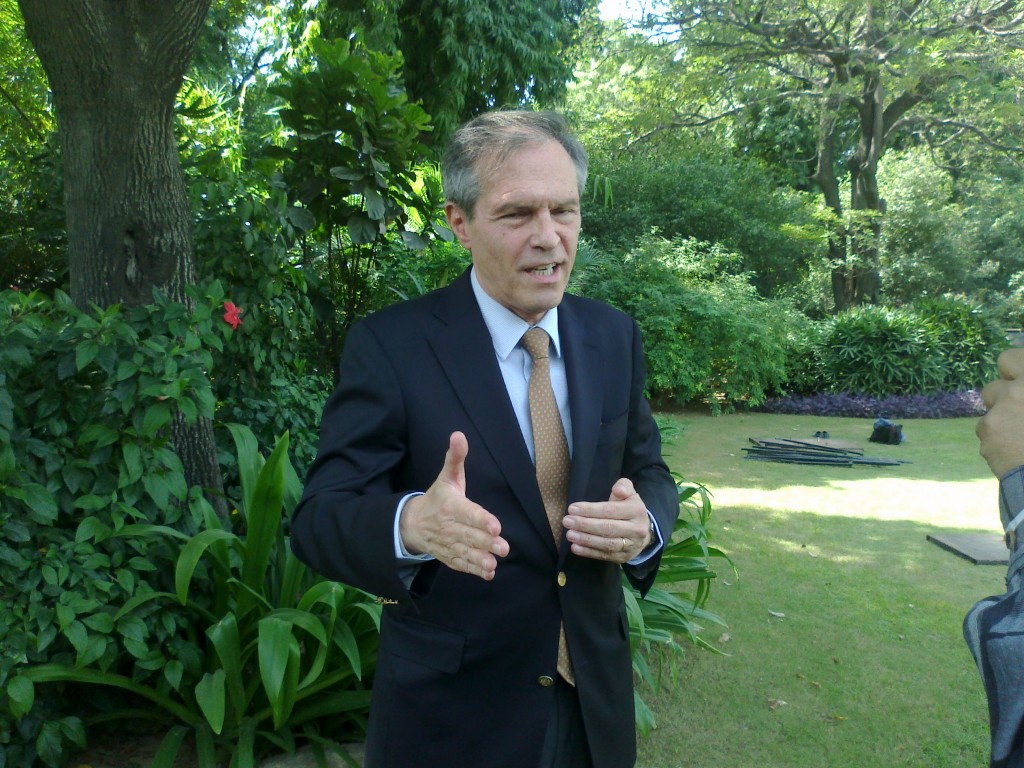 By TN Ashok     / Diplomatic Editor
New Delhi, October 08 : The German Ambassador in India Michael Steiner today hailed Prime Minister Narendra Modi's dual concepts of Skill India and Make in India saying his country said that Germany was India's natural partner in skill development and promoting vocational education and training (VET).
Speaking at a conference "Skilled Germany, Skilled India – The Dual System: State and Business" organised by the German Embassy jointly with the Indian Ministry of Labour and Employment and Skill Development and the German Ministry of Education and Research, Ambassador Steiner said, the conference was about the most important treasure we have: it is about our youth, in India and Germany; it is about their education and their future.
Vocational Education and Training – VET – is perhaps the most underestimated source of prosperity – its importance goes far beyond its economic relevance – which of course is tremendous, he said.
The PM of India has set a vision: "Skill India"! The challenge ahead is extraordinary: 30,000 young Indians need a new job – not in a month, every day, he said adding,  Good vocational qualification guarantees that job, an adequate income and a prosperous future. It means personal pride in your own abilities and skills.
Today, only 2 % of the Indian workforce is formally skilled, the ambassador pointed out saying how we deal with the unskilled will decide whether there will be a demographic dividend or a demographic disaster. " And this depends on your policy choices, " he said.
Skill development is high priority for Indo–German cooperation: In July when PM Modi spoke to Chancellor Merkel on the phone on her birthday, he said: "Germany is India's natural partner in Skill Development".
Why did he say that? His goal is to increase manufacturing in India from today's 15% to 25% of its GDP, as he said at the impressive "Make in India" event last month in Delhi. In order to achieve this: VET is key since you need qualified labour, he said.
The ambassador pointed out that during the last years: a lot of initiatives/new schemes in India were launched, but a coherent strategy was lacking! Therefore, I commend first steps of the new Indian government: to assess, under the auspices of skill development ministry all existing programmes.
He said he was sure that such an assessment would show: fundamental policy decisions need to be made now. Most importantly, India will have to decide for a system: I agree with last year's report of the National Institute of Labour: "It is the dual principle that must become the cornerstone of reforms in the Indian VET system."
The German dual system of VET offers instruments and know-how that can serve as model for setting-up a dual apprenticeship system in India, Ambassador Steiner said.
To avoid misunderstandings: No one talks about purely and simply copying the German System and implement it one-to-one in India.  But using the principles and experiences can be a page-turner: Germany is world champion in bridging gap between school and labour market.
There is a reason why President Obama praised the German VET system in his State of the Union speech. There is a reason why Germany has the lowest youth unemployment rate in the whole of Europe.
Our VET system is the secret of our strong competitiveness in manufacturing, especially in engineering and automotive industry!
And the great advantage of our system: It puts the private sector in the lead!
The public hand cannot do it on its own: Regular schooling, online courses and virtual classrooms cannot make up for missing concrete apprentice experiences in companies. Until now most of the Indian students got a training that largely remains theoretical and disconnected from the needs of industry!
The dual VET system:
offers an effective combination of theory and practice,
makes training demand-driven,
and thus assures the constant innovation of the training-system.
Financing the necessary scale of a National Skills Mission – simply cannot be done without the industry, the ambassador said adding  the key word is synergy: No need to buy expensive training equipment and hire trainers for colleges or schools – these are largely available in companies!
Companies and their chambers and confederations have to take the lead – in their own interest! We organized this conference in order to have frank dialogue. So let me be frank: No dual approach without the necessary legal framework, clarifying responsibilities and participation of all stakeholders!
Does the Apprenticeship-Act need reform in order to involve more companies? In my view, it does!
Is it necessary to set clear learning goals and adequate standards? In my view, it is!
When implementing a new VET system: Do Indian companies need incentives to participate in such a scheme? In my view, they do! The Centre should for example assess tax reductions.
My last point: In India's last government more than 20 ministries worked on Skill Development.
But in the end, you need a VET tsar – someone who is in the lead and can tie all programs together.
India will be partner country of the world's biggest industry fair, Hannover 2015. And I congratulate India and Germany on this, the ambassador said adding  when India presents itself in April next year in Hannover, first assessments will be possible on where the shaping of PM Modi's Skill Development initiative stands.
Tangible results in this decade are possible – but they require courageous policy choices now. Those choices might be difficult, but they are necessary for our most valuable treasure, the youth. It's about empowerment. To give the young generation the necessary tools for their future, he said adding Germany stands ready to cooperate with India in this task – if India so wishes.