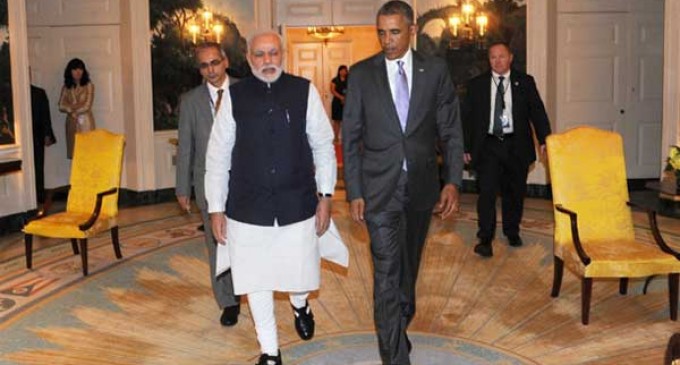 Washington, Oct 2  President Barack Obama was "very pleased" with and "enjoyed" Prime Minister Narendra Modi's visit as it reflected the depth of the strong relationship between the US and India, according to the White House.
The president was "very pleased with" and "certainly values the opportunity that he had to visit personally with Prime Minister Modi", Obama's press secretary Josh Earnest said Wednesday when asked about the future of US-India relations after the Modi visit.
"It reflects that depth of the strong relationship between the US and India that the two leaders were able to come together and discuss a broad array of topics," Earnest told the media.
"Each of those topics represents an area of important cooperation between our two countries.
"I'm confident that as the relationship between our countries progresses, so will those areas of cooperation," Earnest added.
He also pointed to a "pretty detailed list of the agreements that were reached" between the two leaders.
The agreements were "indicative of the wide range of areas where the US and India have a strong, cooperative partnership.
"The president certainly values that aspect of the relationship between our two countries."
It was the first time the two men met in person and "I know the president enjoyed the visit with Prime Minister Modi to the Martin Luther King Jr. Memorial", he said, referring to Obama's spontaneous gesture in joining the memorial visit.
During the visit, "the Indian people saw some important images," Earnest said.
"They saw the president of the US and the prime minister of India sitting down, side by side in the Oval Office, discussing shared interests and priorities between our two countries.
"The people of India also saw the president travel with Modi to the Martin Luther King Junior Memorial on the National Mall.
"And I think that sends a pretty clear signal about the shared values of our two countries and our two democracies.
"It also demonstrates a shared commitment to the success of our two democracies," Earnest said.
"I think it's indicative of the kind of strong partnership that exists between the two leaders and between our two countries."
During the visit, India and the US committed to make joint and concerted efforts to dismantle terrorist safe havens, including four Pakistan-based groups Lashkar-e Taiba, Jaish-e-Mohammad, the D-Company and the Haqqanis besides Al Qaeda.
But India didn't join the US coalition against the Islamic State terrorists. Asked if the US was disappointed over that, he simply said: "We certainly value the strong security partnership we have with India.
"We do have a shared commitment to combating terrorism. Both countries, both India and the US, are dealing with threats.
"And we value the strong relationship we have so that we can cooperate to meet those threats, to confront those threats, and to mitigate the risk that they pose to our citizens both at home and around the world."