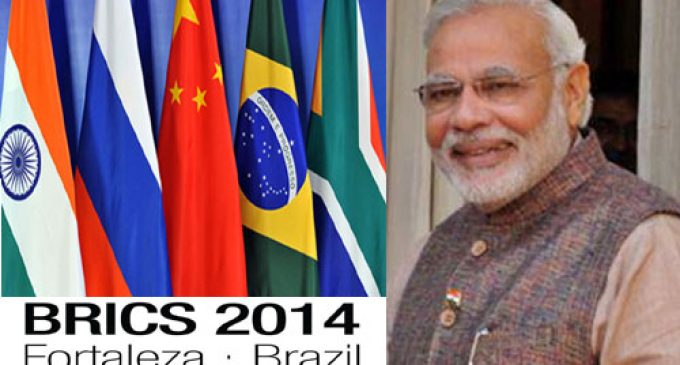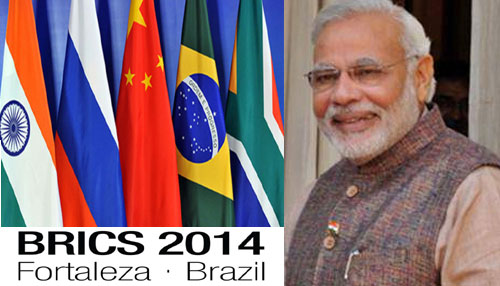 Fortaleza Declaration in Offing – PM to have Bi-lateral Meeting with LATAM leaders

By TN Ashok / Diplomatic Editor

New Delhi, July 06: The upcoming BRICS summit in Brazil on July 15 will see a positive movement on the proposed Development Bank which is still under negotiations among member countries besides a formal declaration called the Fortaleza declaration outlining further steps ahead after admission of Argentina as a new member in the expanding council of countries in the bloc. The bank is to be set up with initial capital of US $ 100 million with contributions from member countries.
"The BRICS Development Bank is still under negotiation but something,,,,, outcome is expected to flow from the negotiations in the preparatory business council meetings leading to the summit negotiations. ", secretary for Economic Relations Ms Sujata Mehta , claimed to be the Sherpa for the BRICS summit , told newsmen today in a MEA briefing on the Prime Minister Narendra Modi's visit to Brasilia and Fortaleza where the 16th summit  is being held.
To a question on whether China would host the BRICS development bank at Shangahi, She said, "So, if you feel that there is certainty that it will be in Shanghai or anywhere else, I am not aware of that. It is still under negotiation."
The Prime Minister is scheduled to have bilateral meetings with each of the 11 leaders of the South American countries that the Brazilian President Ms Rouseff has invited for the meeting. The countries invited are Argentina, Bolivia, Chile, Colombia, Ecuador, Guyana, Paraguay, Peru, Surinam, Uruguay and Venezuela.
President Rousseff has invited all the eleven other members of South America to have an interaction with the BRICS leaders, and PM will of course participate in this. Prior to that, PM will be having a bilateral meeting and a bilateral engagement with Brazil. This is an important aspect of our policy vis-a-vis the Latin American region, and we are taking this opportunity to enable PM to have a wide-ranging dialogue with leaders of the South American countries in this case, Secretary West in MEA , Dinkar Khullar told newsmen.
In our case, with Brazil for the record, the entire gamut of bilateral relations including trade and investment, mining and energy, health, environment, S&T, technical cooperation, regional and multilateral issues will be discussed.
India and Brazil have a strategic partnership and the latter is one of the most important trading partners of India in the Latin American region. Prime Minister's bilateral meeting with President Rousseff reflects the importance India attaches to its relations with Brazil, he said.
The second session of BRICS, which is on 16th, the Prime Minister along with other leaders will meet with South American leaders. We do not have the exact list of those who will come. The invitees of whom we understand most have accepted include Argentina, Bolivia, Chile, Colombia, Ecuador, Guyana, Paraguay, Peru, Surinam, Uruguay and Venezuela, Khullar said.
"We believe that the first meeting of the Prime Minister with Heads of Government/State of South America will further strengthen our already close bilateral relations with these countries and will actually be an opportunity to reinforce them. The Prime Minister has shown great interest in having a dialogue, meeting the leaders of South America.
Ms Sujata Mehta, Secretary Economic Relations in MEA said the Brazil summit will throw up a declaration called the Fortaleza Declaration. The declaration is still under negotiation, it will be happening in fact over the next five days. Negotiations will start tomorrow into Friday by which time we hope to have wrapped it up.
Immediately prior to the first summit day, which will be the 15th, there will be Ministerial meetings on the 14th. The Brazilian hosts have envisaged three different sets of high-level meetings on the 14th. In addition to that there is a BRICS Business Forum. The BRICS Business Forum will be meeting on 14th. We hope that there will be a significant presence of Indian businesspersons there, she said.
The BRICS Business Council, which comprises five senior businesspersons from each BRICS member, will be meeting over the 14th and 15th. The summit day on the 15th will comprise both a set of closed discussions when the leaders will sit and exchange views in a sort of closed setting, after that there will be an open session..
On the 16ththe scene of action shifts to Brasilia where the BRICS leaders are going to be meeting some leaders of South America.
Origin of BRICS
BRICS began as BRIC, a term coined by Goldman Sachs  in 2001. The first meeting in the BRIC configuration happened in 2006 when the Foreign Ministers of the four BRIC countries met in New York on the margins of the UNGA that year.
The first summit was held in 2009, and in 2010 it was felt that to give it a little more balance, to give the group a little more weight, Africa needed to be brought on board and South Africa was invited to join. In 2011, BRIC got enlarged into BRICS and that is the present configuration that we see.
BRICS is a tremendously important group in terms of its potential. India accounts for more than a quarter of the world's land mass, 40% of the world's population, and a combined GDP of USD 24 trillion at PPP.  There are three declared aspirants for permanent membership of the UN Security Council, two members who are permanent members of the Security Council.
As a group BRICS have natural resources, financial resources, and consumers to be able to generate demand so as to be able to give momentum to manufacturing, innovation and technological advancement. The activities within BRICS are annual summits. In addition there is an on-going cycle of activities in virtually 20 plus areas of activity. And each year the summit declaration contains within it a very specific action plan setting out what would be some things that BRICS members will be engaging in collectively in that year.
Q and A at the briefing:
Question:I understand that BRICS is now going to become BRICSA with Argentina joining, and that China will host the BRICS Development Bank in Shanghai. Do you have anything to say about these two things?
Secretary (ER): The answer to the first question has been given by Akbar in the past; we have nothing to add to that. As far the as the second is concerned, the matter relating to the BRICS Development Bank is still under negotiation. So, if you feel that there is certainty that it will be in Shanghai or anywhere else, I am not aware of that. It is still under negotiation.
Official Spokesperson: Just to mention to you, we are having this briefing earlier because the Sherpa will be leaving today and there are going to be a series of meetings prior to the summit and these are where the negotiations will be held. So, much of the outcomes will be determined during the negotiations. Therefore, if you ask us questions relating to the outcomes of the summit, those are only going to flow from the negotiations and that is why we called you today.
Question:Since you are not talking about outcomes, from India's point of you what are the deliverables we are looking at? What are our priorities that are forthcoming? This marks the beginning of a new cycle.
Secretary (ER): From our point of view the BRICS process is in itself of such symbolic significance given the weight of the members, given the weight of the countries involved, that the fact that we are able to meet in this configuration and take collective positions is in itself its own message. So, let me not treat that as a light outcome in any sense of the word. We will of course be hoping for an endorsement of the need for Security Council reform. I think that is an important issue that we will hope to certainly pursue in the discussions in whatever form.
This is becoming an important year in the calendar of multilateral discussions given the ongoing discussions in the UN in terms of the post-2015 development agenda in terms of developing sustainable development goals. So, those items will certainly also come up for discussion. This is an important group of countries with significant interest in all of these. So, this too is an area.
A moment ago we heard the question from Mr. Venkat Narayan about the BRICS Development Bank. This has been an important element of discussion which we hope will be carried forward. There should be something perhaps in terms of an outcome, we hope, on export credit guarantees.
There are a variety of things that are under discussion. But as I said, the most significant thing about BRICS is the fact that these countries meet in this particular configuration. That is what I would like to underline.
Question:Can you give us a sense of how India is going to use the BRICS Development Bank when it comes into being? There must be some roadmap.
Secretary (ER): The idea of a development bank which would be outside the framework of the Bretton Woods system is something that in fact came out of the New Delhi Summit of BRICS in 2012. We are still at the stage when we are negotiating it. So, I would not want to speculate on what roadmap there will be for utilising it. But I think the general assumption is that it will be a development bank which will be available to provide concessional credit to members of BRICS if they should so wish and to other developing countries. That is the logic of the proposal.
Question:After the decision to establish the bank in Durban, what has happened on the bank? Has its headquarters been finalised and what is the capital?
Secretary (ER): As far as I know, all aspects are still being discussed, are still under negotiation.
Question:Sir, the host country has told our Advance Security Liaison that before the meeting with the President of Brazil India has a choice; PM either gets a ceremonial welcome or a breakfast, not both. Now, what have we chosen?
Secretary (West): I think you should have asked the question to the Prime Minister.
The simple fact of the matter is, as you said, Advance Security Liaison team has come and we will go by logistical convenience. As I mentioned to you, a large number of people want to meet PM amongst the Latin American leaders who are going to be present there. So, it will be done basically on convenience of timing. My belief is that we will probably go to the Presidential Palace where PM will have a reception and will have his talks, because my own impression is that PM is more concerned about substance than basically form.
Question:On a common fund meeting the current account…(Inaudible)… from all five countries to create a fund…(Inaudible)…
Secretary (ER): That has been under discussion that there should be a fund that the countries should be able to draw upon exactly for the purpose that you said that in the event of a liquidity crunch they should be able to draw upon. This too is an idea that is under discussion.
Question:Is there any move from the BRICS countries to take a common ground in the WTO for the next round? Is that a part of the agenda?
Secretary (ER): I think matters relating to the WTO will certainly come up for discussion. I think it is a little premature to assume that there will be common ground because I think each one of us has a particular posture, particular position that we take in Geneva. So, I would not say that there will be a common outcome in that sense, but certainly there will be discussion on WTO matters.
Question: On the side-lines of the BRICS, is there a bilateral meeting with the Chinese President, and what can we expect from that particular meeting?
Official Spokesperson: It is normal for our Prime Minister to meet other BRICS leaders. Therefore, we are working on a schedule of meetings for the Prime Minister with other BRICS leaders. That schedule is not yet complete, but you can rest assured that certainly there will be bilateral meetings with other BRICS leaders in Brazil.