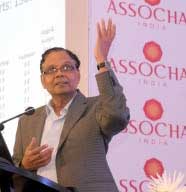 Hangzhou (China), Sep 6  India on Monday told the G20 grouping that it was not ready to ratify the Paris accord before 2016.
"We are not quite ready yet in terms of domestic actions that are required to ratify or at least to commit to ratify within 2016," Arvind Panagariya, India's Sherpa (representative) to the G20, said here.
Talking to journalists after the meeting of Sherpas, Panagariya said there were disagreements on ratifying the Paris Agreement by the end of 2016.
"There was an issue whether G20 will endorse, ratifying the Paris agreement before 2016. On that there were some disagreements. The G20 has welcomed the countries that have welcomed those who have ratified and planning to ratify the deal before 2016," Panagariya said.
On the eve of G20, both China and US ratified the Paris accords, which stipulates the countries to cut carbon emissions.
Panagariya said issues of international financial governance, tax evasion, trade investment and growth were some of the issues discussed at the meeting.
He said India "was able to influence the outcome of G20 Summit in every area".
"We have influenced the outcomes in every area. The negotiations lasted for 40 hours. The communiques in about 7,000 words," Panagariya added.