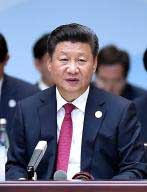 Hangzhou (China), Sep 6  The G20 major economies' leaders will use multiple policy tools including fiscal, monetary and structural reform to explore medium and long-term growth potential, Chinese President Xi Jinping said on Monday.
The G20 member countries should work together to coordinate their macro policies more closely and implement the Hangzhou Action Plan, Xinhua news agency quoted Xi as saying after the conclusion of the 11th G20 Summit here.
These policies should not only expand aggregate demand but also improve the quality of supply, he said.
According to Xi, the G20 is determined to point the direction and chart the path for the world economy.
He said facing current economic risks and challenges, maintaining a peaceful and stable international environment was paramount.
"We are confident that through the joint efforts of all parties, we can bring the world economy back to strong, sustainable, balanced and inclusive growth track."