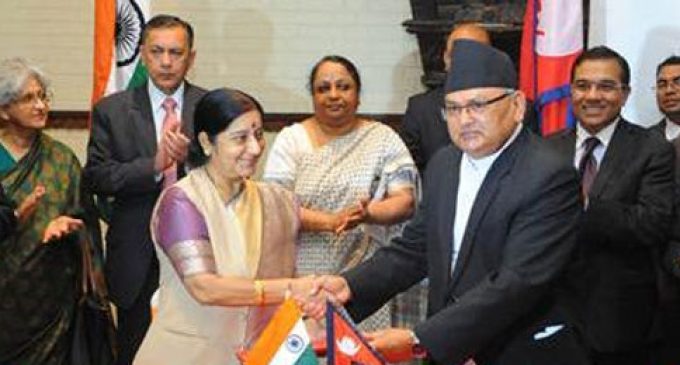 Kathmandu, July 27 Wrapping up her three-day trip, Indian External Affairs Minister Sushma Swaraj Sunday said the her Nepal visit was "highly productive".
She made the comment at the Tribhuvan International Airport before taking off for India. The minister earlier offered prayers at the Pashupatinath temple here.
It was the first high-level contact between the two countries after the formation of the Narendra Modi government in New Delhi two months ago.
During her engagements with Nepali leaders, including President Ram Baran Yadav, Prime Minister Sushil Koirala and Maoist chief Pushpa Kamal Dahal aka Prachanda, she said the Modi government placed relations with Nepal in a special category.
Nepal "is a very important neighbour," the minister told everyone.
She said the new BJP government wanted to work with Nepal in a different way and desired to be its development partner.
Sushma Swaraj also said that she hoped that all political parties in Nepal would bring about an inclusive constitution.
During the visit, India and Nepal agreed to review all past treaties and accords, including the 1950 peace and friendship treaty.
The two foreign secretaries will head a panel of eminent group of people including MPs, lawyers, economists and civil society members to make recommendation within two years.
India and Nepal agreed to harness the abundant energy potential of Nepal for mutual benefit.
They will also set up a Boundary Working Group to settle the boundary disputes in three areas: Susta (Uttar Pradesh), Kalapani (Uttrakhand) and Ilam (West Bengal).
Modi will visit Nepal Aug 3-4 and again during the SAARC Summit later in the year.
Sushma Swaraj arrived here July 25 and co-chaired the third meeting of the Nepal-India Joint Commission after a gap of 23 years.