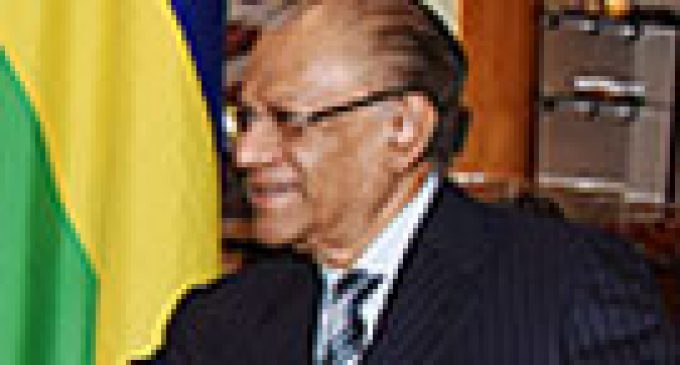 Port Louis (Mauritius), Nov 2 Indian External Affairs Minister Sushma Swaraj Sunday assured Mauritius that India will always remain "a steadfast friend and partner" as she paid tribute to the "girmitiyas", the nearly half a million Indians who arrived in the island to work as indentured labourers in the 19th century.
Sushma Swaraj, who is here on a three-day visit, emphasized that India-Mauritius relations "have an emotional connect".
During a meeting with Prime Minister Navinchandra Ramgoolam, Sushma Swaraj assured that the interests of the Indian Ocean island nation would be kept in mind while reviewing the Double Taxation Avoidance Agreement (DTAA), official sources said.
She said that amendments to the bilateral tax treaty would be made only after considering the legitimate interests of both sides.
The visit of the Indian external affairs minister takes place against the backdrop of three Indian naval ships INS Talwar, Deepak and Mumbai docking in Port Louis on a goodwill visit.
Sushma Swaraj was here to attend the commemoration events of the 180th anniversary of Aapravasi Diwas here, the day the first batch of 36 Indians arrived in 1834 to work as indentured labour.
In a speech at the event, she drew huge applause by speaking a few lines in Bhojpuri.
She said that the Indians by dint of their hard work and sacrifice "paved the road for the freedom and prosperity that are enjoyed in Mauritius today".
Nearly half a million Indians, mostly from what are now Uttar Pradesh and Bihar states, were sent to Mauritius in the 19th century to work as indentured labourers in the sugarcane plantations or to sail on to further destinations, such as Guyana, Suriname and Reunion Island.
"For India, the success of Mauritius embodies the triumph of the principles that are so precious to India: democracy, rule of law, tolerance, social harmony and human enterprise. India has always been, and will always be, a steadfast friend and partner of Mauritius," she said.
Later, Prime Minister Ramgoolam, while addressing a civic reception, said that he is thankful to India for positively considering Mauritius' request to support the Light Rail Transit project.
The project has been under discussion between the two countries for more than a year. Mauritius is seeking Indian Line of Credit as an initial measure of support for this major infrastructural initiative.
The light rail project is to connect the capital city of Port Louis with the residential hub of Curepipe.
According to a media report, contracts have already been awarded by the ministry of public infrastructure to a partnership of two companies – India-based construction firm Afcons Infrastructure and Spanish rolling stock manufacturer Construcciones y Auxiliar de Ferrocarriles (CAF) – to build the 37-km light rail line.