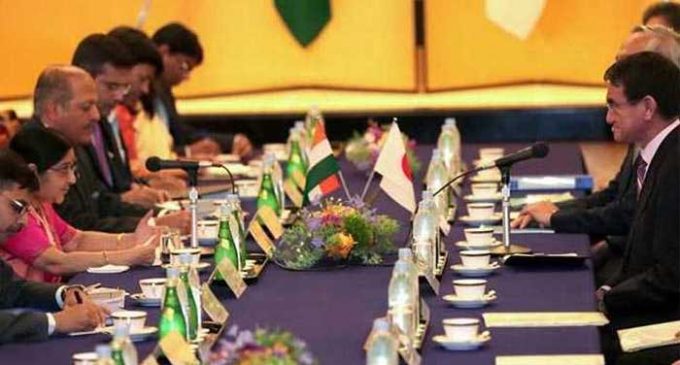 Tokyo, March 29 (IANS) India and Japan on Thursday called for a peaceful, stable and free Indo-Pacific region following the Ninth India-Japan Strategic Dialogue co-chaired by Indian External Affairs Minister Sushma Swaraj and Japanese Foreign Minister Taro Kono here.
"We are both democratic countries who respect openness, rule of law, sovereignty and territorial integrity," Sushma Swaraj said while addressing the media with Kono following the talks.
"The Special Strategic and Global Partnership we share is extremely important in the context of today's world," she said. "Both our countries seek a peaceful, stable and prosperous Indo-Pacific region."
On his part, Kono said India was Japan's most important partner in its Free and Open Indo-Pacific Strategy.
"Our Free and Open Indo-Pacific Strategy and India's Act East Policy should be further merged," he said.
The remarks assume significance given China's belligerence in the South China Sea and attempts to increase its footprint in the Indo-Pacific region.
India and Japan, along with the US and Australia, are also part of the recently revived quad that seeks to work for peace and prosperity in the Indo-Pacific.
In her address, Sushma Swaraj said that in Thursday's Strategic Dialogue, she and Kono discussed bilateral, regional and global issues of mutual interest.
Stating that India had emerged as one of the fastest growing economies, she said that under Prime Minister Narendra Modi, the country had risen in the rankings of ease of doing business.
"During our discussions, I told Foreign Minister Kono that India has embarked on the path of change and in this we regard Japan as an important partner," she stated.
"We welcome Japan's role in our flagship programmes like Smart Cities, Digital India and Start-up India."
Sushma Swaraj said she and Kono also discussed cooperation in the areas of information and communication, space research, health services and food security besides new areas.
She said that both sides appreciated the growing people-to-people ties between the two countries and called for relationships to be established between the states of India and the prefectures of Japan.
Both sides also strongly condemned terrorism and those providing safe havens to terrorists and agreed to unitedly fight climate change.
Sushma Swaraj said the Strategic Dialogue had laid the groundwork for the annual bilateral summit between Modi and his Japanese counterpart Shinzo Abe to be held later this year.
Following the talks, the two sides signed loan agreements on projects being implemented in India with Japanese aid, including on connectivity in northeastern India, Mumbai Metro Line 3, construction of Chennai Sea Water Desalination Plant and Himachal Pradesh forest ecosystem management.
Earlier, Sushma Swaraj addressed the Indian community at the Vivekanand Cultural Centre here during which she lauded the contribution of the diaspora in strengthening India's relations with Japan and creating a positive image about India in Japan.
She met former Japanese Foreign Minister Fumio Kishida and discussed ways to take the India-Japan relationship forward.
Kishida is Chairman of Japan's ruling Liberal Democratic Party's Policy Research Council.