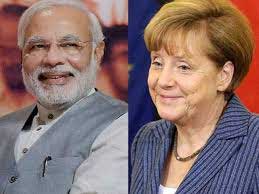 New Delhi, July 18  Indian Prime Minister Narendra Modi spoke on the phone Thursday with German Chancellor Angela Merkel during his transit halt at Frankfurt on his way back home from the BRICS summit in Brazil and both leaders invited each other for official visits.
A statement from the Prime Minister's Office said that Modi had a "fruitful" conversation with Merkel and congratulated her on Germany's victory in the FIFA World Cup, as also on her birthday.
"The prime minister conveyed that India regards Germany as a very important partner and that his government will work closely with the German side to strengthen and deepen the bilateral strategic partnership," the statement said.
Modi made a transit halt at Frankfurt on his way back to New Delhi from the BRICS summit in Berlin.
He had made a transit stop at Berlin on his way to Brazil but his talked-about meeting with Merkel did not materialise as she went to watch her country take part in the final of 2014 football World Cup.
The statement said that the two leaders agreed to meet at the earliest opportunity.
It said that the German chancellor "extended a standing invitation to the prime minister" for an official bilateral visit to Germany.
Modi complimented her on the "splendid victory of the German football team" and also "conveyed his good wishes to Merkel on her 60th birthday which is today (Thursday)."
He invited Merkel to visit India in 2015 for the third meeting of Indo-German inter-government consultations which was accepted by the German chancellor.
The two leaders also briefly discussed areas of bilateral cooperation including skill development.
The statement also said that the German chancellor has invited India to be a partner country at the Hanover trade fair in 2015.