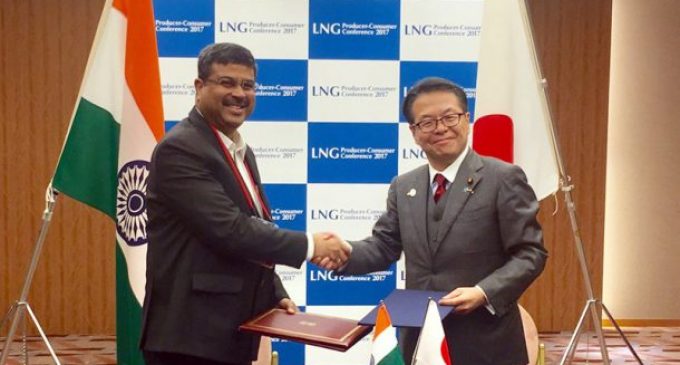 Tokyo, Oct 18 (IANS) Given the transformation in the global LNG market into a situation of oversupply, India on Wednesday called for flexible terms for gas purchases, including the provision of a pricing review, "take or pay" terms and abolition of destination restriction clause in contracts.
Indian Petroleum Minister Dharmendra Pradhan urged global LNG markets to join hands to design flexible terms at the LNG Producer-Consumer Conference here being held over October 17-18, according to a statement from the Indian Petroleum Ministry.
"Pradhan urged the global LNG markets, in which producers and consumers of LNG have equal stakes, to join hands to design flexible terms such as pricing review, flexible take or pay, abolition of destination restriction clause in the LNG contracts," the statement said.
"These reforms are essential for developing a transparent, efficient, truly global and balanced LNG market," the Minister said in his keynote address at the conference.
Last month, India renegotiated the price of liquefied natural gas (LNG) it imports from the Gorgon project in Australia that will result in savings of more than Rs 10,000 crore.
The Gorgon project operators' consortium led by American energy majors Chevron and Exxon Mobil have agreed to charge 13.9 per cent of the prevailing UK Brent oil price at the port of delivery, rather than 14.5 per cent at the port of loading as was agreed earlier.
Last year, India favourably re-negotiated its LNG agreement with Qatar to bring down the cost of importing natural gas to less than $5 per unit from $12.
According to the statement, Pradhan also met with Japanese Minister of Economy, Trade, and Industry Hiroshige Seko and discussed increasing cooperation in the hydrocarbon sector between the two nations.
The ministers signed a memorandum of cooperation (MoC) on jointly developing a liquid, flexible and global LNG Market.
"The MoC provides a framework to cooperate in facilitating flexibility in LNG contracts, abolition of the destination restriction clause and also explore possibilities of cooperation in establishing reliable LNG spot price indices reflecting true LNG demand and supply," it said.
"They also explored joint cooperation in the areas of LNG sourcing, swapping and optimization of LNG sources and commercial exploitation of methane hydrates," the statement added.
Both India and Japan are among the top four LNG importers and have agreed to swap supply contracts in order to save on transporting the fuel from overseas.
"The MoC will promote the bilateral relationship between India and Japan in the energy sector and will contribute to the diversification of gas supplies for India," the ministry said prior to Pradhan's departure for the island nation.
According to the statement, Pradhan invited Seko to attend the 16th International Energy Forum Ministerial meeting to be held in New Delhi during April next year.