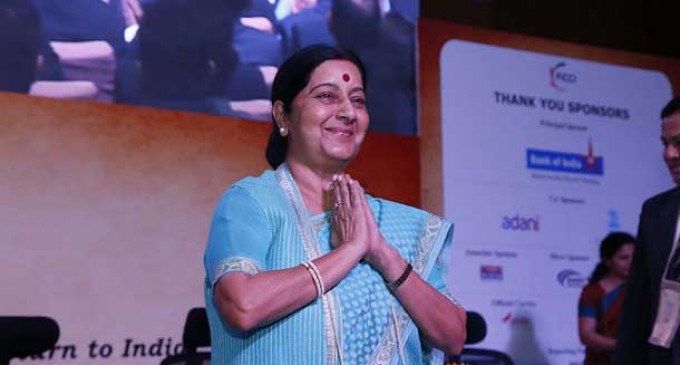 Gandhinagar, Jan 8 The Narendra Modi government is determined to work closely with India's huge diaspora, Minister for Overseas Indian Affairs Sushma Swaraj said here Thursday and invited professionals from the diaspora to join in efforts to develop the country and "restore it to its past glory".
In her remarks during the inauguration of the 13th Pravasi Bharaiya Divas (PBD) here, Sushma Swaraj assured the diaspora that their efforts to contribute to India's development would be a "mutually rewarding and satisfying partnership".
"I believe you have the unique insights, perspectives and the extensive natural links that can make this partnership work," she said.
Sushma Swaraj, who is also the external affairs minister, said the 25 million-strong Indian diaspora constitutes an important and unique force that has given India a presence in many parts of the world.
"However, it is not a one-way interaction that benefits only one side. It pleases all Indians when the overseas Indian community is respected for its work culture, discipline, successful integration with the local community and for its outstanding contributions in their countries of residence," she noted.
"A successful, prosperous and politically influential diaspora is an asset to India, much as a strong and self-reliant India would be a source of strength and inspiration for the diaspora. This synergy acts as a vibrant bridge between us and sustains our relationship," she said.
She assured the diaspora that the government was determined to work closely with it to "leverage each other's strengths for mutual benefit".
Earlier in her speech, Sushma Swaraj welcomed the special invitees, including Guyana President Donald Ramotar, who is chief guest of the Pravasi Bharatiya Day, South African Foreign Minister Maite Nkoana-Mashabane, and Mauritius Vice Prime Minister Showkatally Soodhun.
She had a word of praise for Mashabane, who was attired in a pink Benarasi sari, saying that she looked "gorgeous".
The minister said India has commissioned well-known sculptor Biman Das to build a monument dedicated to the arrival of Indian indentured labourers in Guyana.