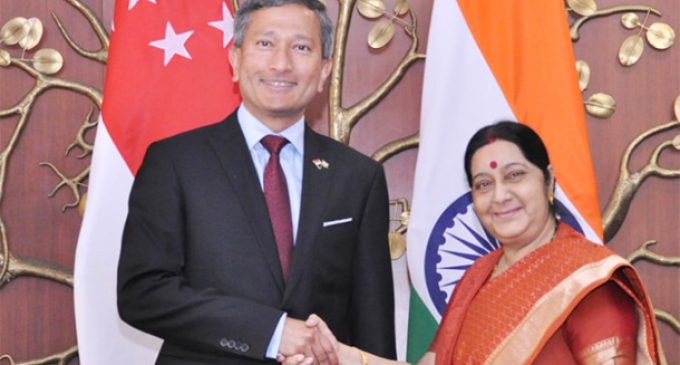 New Delhi, Oct 31 (IANS) In tune with New Delhi's Act East Policy, External Affairs Minister Sushma Swaraj and her Singapore Minister of Foreign Affairs Vivian Balakrishnan held the fifth India-Singapore Joint Ministerial Committee Meeting here on Tuesday.
"Expanding our strategic partnership," External Affairs Ministry spokesperson Raveesh Kumar tweeted, referring to the meeting between the two leaders.
Balakrishnan, who arrived here earlier on Tuesday, will also visit Guwahati on Wednesday where he will meet Assam Chief Minister Sarbananda Sonowal.
The India-Singapore bilateral relationship was elevated to a strategic partnership during the visit of Prime Minister Narendra Modi to the city state in November 2015.
There are five areas of cooperation to enhance bilateral relations: scale up trade and investment; speed up connectivity; smart cities and urban rejuvenation; skill development; and state focus.
Singapore was India's 10th largest bilateral trade partner in 2016-17 and the second largest among the Association of Southeast Asian Nations (Asean) countries, with a share of 2.5 per cent and 2.6 per cent respectively of overall trade with India.
Bilateral trade expanded after the conclusion of Comprehensive Economic Cooperation Agreement (CECA) from $6.7 billion in 2004-05 to reach $16.7 billion in 2016- 17.
In 2016-17, India's imports from Singapore totalled $7.1 billion and exports totalled $9.6 billion, a growth of 24 per cent compared to the previous year
Singapore has agreed to set up a skill development centre in the northeastern state.