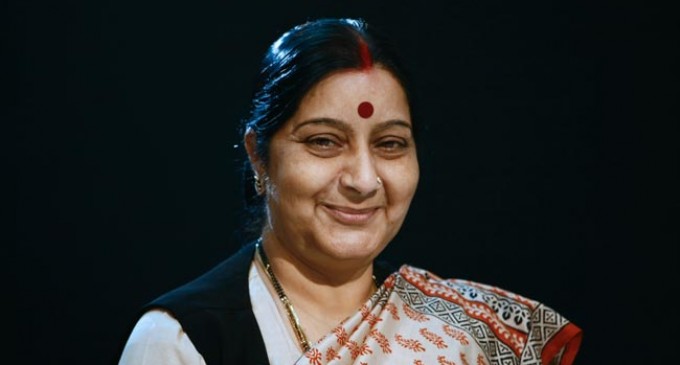 New Delhi, April 18  External Affairs Minister Sushma Swaraj on Sunday met members of the Indian community in Iran and visited a Sikh gurudwara at the start of her two-day Tehran visit to boost ties between the two countries, particularly raising India's fuel imports after the US removed trade embargoes against the oil-rich Gulf nation.
Sushma Swaraj and Iranian Foreign Minister Javad Zarif also led "delegation level talks on India-Iran relations", external affairs ministry spokesperson Vikas Swarup tweeted. The talks were held as the sides reviewed bilateral relations amid a focus on boosting ties in energy and trade.
Earlier, Sushma Swaraj, who arrived in Tehran on Saturday, visited an Indian school in the Iranian capital. Children in the school performed a show to depict the cultural blend of the two nations.
"A little India in the heart of Tehran. Students of Kendriya Vidyalaya welcomed Sushma Swaraj. Our centuries old and civilizational links with Iran have been strengthened by the cultural activities of the Indian school," Swarup said.
"I am commencing my visit to Iran with a new energy after meeting with Indian community," Sushma Swaraj said in her address to the schoolchildren.
The minister began her Sunday morning with a visit to a gurudwara that was established in Tehran some 75 years ago. The spokesperson said it was "a unique morning for the Indian community in Tehran as Sushma Swaraj visited the gurudwara and its community school".
Sushma Swaraj assured Indian "community members (that) she will raise issues of concern to them with the Iranian leadership", Swarup said.
Sushma Swaraj's visit follows that of union Petroleum Minister Dharmendra Pradhan, who was in Iran last week.
It also comes two weeks after Prime Minister Narendra Modi's visit to Saudi Arabia — a regional rival to largely Shia-populated Iran. India and Saudi Arabia have committed to scale up their strategic ties.
Besides oil, India has vital stakes in connectivity projects in Iran, like the Chabahar port that will open up the country's trade and commercial connectivity with Central Asia and Afghanistan.