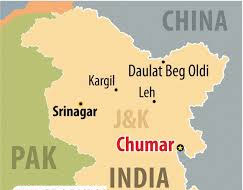 New Delhi, Sep 20 Amid reports of a fresh intrusion by Chinese soldiers in Ladakh region of Jammu and Kashmir after Prime Minister Narendra Modi raised the issue with Chinese President Xi Jinping, India Saturday said the process initiated by Modi was being "carefully followed and we await its outcome".
According to army sources, Chinese soldiers withdrew from Chumar in Ladakh Thursday night after Modi raised the issue with Xi during talks.
But the People's Liberation Army troops returned after a few hours Friday.
Nearly 35 Chinese personnel are presently camping at a hillock in the same area.
Chumur is located more than 300 km northeast of Leh and borders Himachal Pradesh.
Several attempts at incursions have been made by China in this area.
External affairs ministry spokesperson Syed Akbaruddin, in answer to a query on the fresh Chinese incursion, said: "Diplomacy is not like instant coffee. India has at the highest level taken this (issue of incursion) up. Let us allow this process to function. The process initiated by the prime minister is being carefully followed and we await its outcome."
Modi, during his talks with Xi, had voiced "serious concern over repeated incidents along the border" and said the border row should be resolved soon.
Ahead of Xi's Sep 17-19 visit, hundreds of soldiers of the Peoples' Liberation Army had entered Chumar.