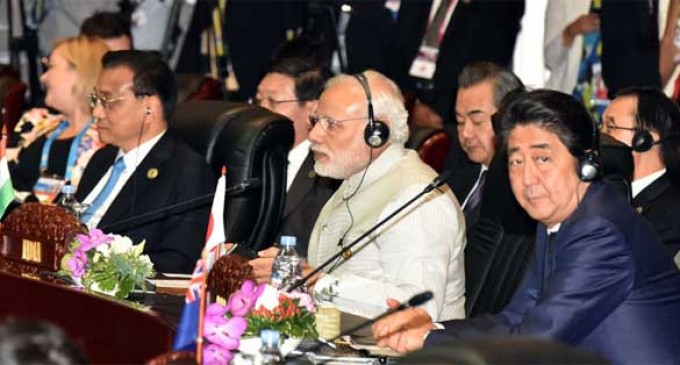 Vientiane (Laos), Sep 8  Prime Minister Narendra Modi on Thursday participated in the 11th East Asia Summit here, the premier leaders-led forum in the Asia-Pacific region.
"Constructing the arc of a new Asian Century. PM @narendramodi participates in the 11th East Asia Summit," External Affairs Ministry spokesperson Vikas Swarup tweeted.
Earlier in the day, Modi attended the 14th India-Asean Summit which was attended by the leaders of 10 southeast Asian nations — Indonesia, Malaysia, the Philippines, Singapore, Brunei, Cambodia, Laos, Myanmar, Vietnam and Thailand.
The East Summit is also being attended leaders of the 10 Asean nations and those of China, Japan, South Korea, Australia, New Zealand, the US and Russia.
Since its inception in 2005 — India is a founding member, the East Asia Summit has played a significant role in the strategic, geopolitical and economic evolution of East Asia.
On Thursday, Modi also held bilateral meetings with Laos Prime Minister Thongloun Sisoulith, South Korean President Park Geun-hye, and State Counsellor and Foreign Minister of Myanmar Aung San Suu Kyi on the sidelines of the two summits.
He is also scheduled to meet US President Barack Obama later in the day.