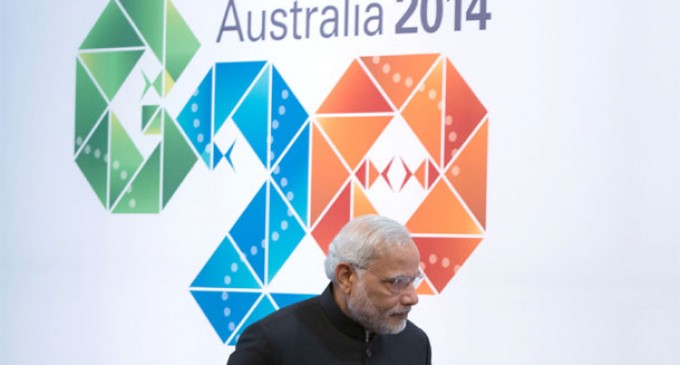 Brisbane, Nov 15 Indian Prime Minister Narendra Modi Saturday said repatriation of unaccounted money from abroad was a key priority for his government and the unaccounted money abroad posed both economic and security challenges.
He said this during an closed door intervention at the meeting of BRICS leaders ahead of the G20 summit in Brisbane.
Towards this, the prime minister also stressed the need for better international policy coordination, and the need to reform global economic institutions.
He suggested the creation of a digital hub for sharing of information and best practices for infrastructure.
Modi said the G20 meeting was taking place in the shadow of continued weak global economic growth.
He said political turbulence in many parts of the world, and the Ebola pandemic were also factors of concern.
Therefore, he said, there was a need for a positive environment to achieve economic goals, and G20 can support this effort.
He said there was a strong need to give a message to revive economic confidence and boost growth and job creation, according to an official statement.
Modi also made an intervention during the Retreat for G20 leaders, on the subject "Reform Experience and Thrust Forward".
He was invited by Australian Prime Minister Tony Abbott to speak on the subject and share his vision of reform, based on his own experiences.
In his intervention, the prime minister stressed that reforms cannot be made by stealth, but have to be people-driven and people-centric.
He said reforms should take into account the issues being faced by people.
He emphasised that reforms cannot be superficial, but should take into account the root causes of the issues involved. Only then can reforms be durable and long-lasting, he added, said an official statement.
In this context, the prime minister illustrated the point by talking of a link between water availability and power.
He said farmers often need cheap power to extract groundwater, because water was not otherwise available.
However, if water was made available to them, then farmers may no longer require subsidised power.
Hence the reform process could move forward taking into account root causes.
The prime minister said there was bound to be resistance to reform, and therefore, it was essential to insulate the reform process from politics.
Modi stressed that reform should be an institutionalised process, and reforms should lead to simplification of processes, and should also involve improvements in governance processes.
The prime minister will Sunday speak at the G20 Plenary when there will be an opportunity to make an intervention on the issue of black money, said external ministry spokesperson Syed Akbaruddin.
Modi also held first-time meetings with Canadian Prime Minister Stephen Harper, French President Francois Hollande and Saudi Arabia's Crown Prince Salman bin Abdulaziz Al Saud.
The meetings with Hollande and Harper were largely introductory, during which Modi received invites from the two leaders to visit both countries.
The prime minister "indicated he has accepted the invites and is keen to travel to both next year. It could be in the same trip, it will be worked out… it could be in the first half of next year," the spokesperson said.
Both France and Canada voiced their concerns regarding terrorism.
In both meetings, the prime minister reiterated his stand that religion should be delinked from terrorism.
Both the countries are facing the challenges of terrorism and are part of the US-led coalition of air strikes against the Islamic State.
Modi also conveyed his condolences to Harper for the attack on the Canadian parliament.
Both leaders also discussed possible areas of economic cooperation with Modi.
He will Sunday meet German Chancellor Angela Merkel and Spanish Prime Minister Mariano Rajoy on the sidelines of the G20.
He will also be unveiling a statue of Mahatma Gandhi at Roma Street Parkland in Brisbane and meeting Queensland Prime Minister Campbell Newman.
Later, Modi will attend a civic reception hosted by the Queensland premier which will be attended by Lord Mayor Graham Quirk at the City Hall.