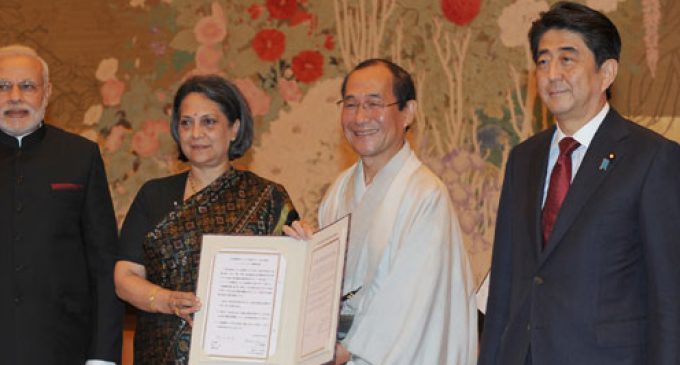 Kyoto, Aug 30 Indian Prime Minister Narendra Modi began a five-day visit to Japan Saturday, a day that saw the inking of a partnership agreement between Varanasi, one of the oldest continuously inhabited cities in the world, and Kyoto, which was the capital of Japan for over 1,000 years.
The partnership agreement was signed soon after Modi was received warmly by his Japanese counterpart Shinzo Abe.
The partnership focuses on how to preserve heritage while building smart cities. It was signed between Kyoto Mayor Daisaku Kadokawa and India's Ambassador to Japan Deepa Gopalan Wadhwa, said ministry of external affairs spokesperson Syed Akbaruddin.
Since the end of the Nara Period (794 A.D.), Kyoto has been at the crossroads of Japanese history. Till the Emperor moved to Tokyo, it was the capital of Japan for over 1,000 years. With its ancient temples and shrines, Kyoto is practically the cultural centre of Japan.
Akbaruddin said that Kyoto had been included in Modi's schedule as it "dovetails into Modi's emphasis on rejuvenation of cities while preserving their cultural heritage".
The Hindu holy city of Varanasi is part of Modi's Lok Sabha constituency.
Abe and Modi hugged each other, and then fed fish in keeping with the tradition in Japan.
Modi arrived in Japan on a five-day official visit, hoping to boost ties in infrastructure, trade, defence and civil nuclear energy. This is his first bilateral sojourn outside South Asia since he took office in May.
Shinzo Abe, in a special gesture, flew down to Kyoto to receive Modi.
Before leaving for Japan, Modi expressed confidence that his visit would open a "new chapter" in bilateral relations and give a boost to their defence and security cooperation.
"We will discuss how to boost our defence and security cooperation, including in defence technology, equipment and industry, in line with the evolving domestic policies of the two countries," the prime minister said.
From Kyoto, Modi travels to Tokyo, where he would discuss with Abe the roadmap for "our global and strategic partnership in the years ahead".
India is keen on early conclusion of the civil nuclear agreement with Japan, which will facilitate supply of its nuclear technology to India. The two countries have been holding talks on the issue since 2010.
With the Modi government having initiated a project for starting bullet trains in the country, that issue is also expected to engage early attention at the discussions.
While the two countries have cooperation of navies that apparently share perceptions in terms of maritime security and anti-pirate operations, negotiations are underway for sale of US-2 amphibious aircraft by Japan to India.
This is Modi's third official bilateral visit after becoming prime minister in May this year. He made bilateral visits to South Asian neighbours Bhutan and Nepal after becoming prime minister.
Besides that, the only other visit he made abroad was to Brazil for the BRICS (Brazil, India, China, Russia, South Africa) summit.