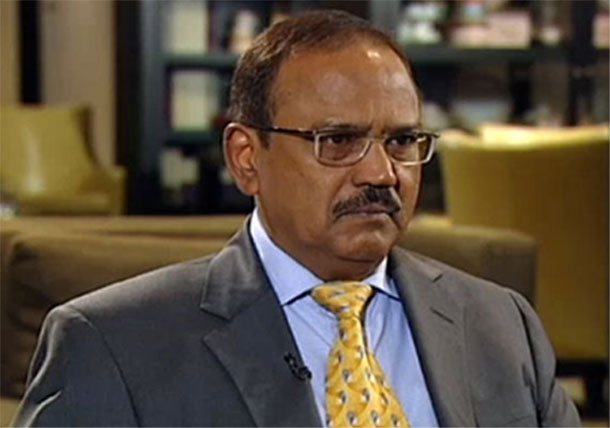 Washington, Oct 3 Following up on the summit between Prime Minister Narendra Modi and President Barack Obama, Indian National Security Advisor Ajit Doval has met top US officials to discuss US-India security cooperation and counter-terrorism issues.
Doval, who stayed back after Modi's departure, met his US counterpart Susan Rice and Secretary of State John Kerry Thursday after meeting Defence Secretary Chuck Hagel Wednesday.
State Department Spokesperson Jen Psaki told reporters Kerry's meeting with Doval builds on discussions held during Modi's visit to the US "and covered issues such as defence cooperation, international terrorism and terrorism finance, and law enforcement cooperation."
"This meeting was an important step in reinforcing our shared resolve stated in recent US-India joint statements of expanding our cooperation to bolster national, regional, and global security," she said.
A White House readout of Doval's meeting with Susan Rice said "they discussed how we can best build on the accomplishments from the Prime Minister's visit to Washington to strengthen the US-India strategic partnership for the benefit of citizens in both countries and beyond."
"They exchanged views on regional developments, including cooperating on maritime security and the importance of reinforcing stability in Afghanistan after the inauguration of a new National Unity Government this week," it said.
"They agreed to work together to address global crises such as the outbreak of Ebola in West Africa and the spread of violent extremism, and looked forward to continuing close consultations in the future," it added.
In a readout of Doval's meeting with Hagel Wednesday, Pentagon Press Secretary Rear Admiral John Kirby said "they emphasised US-India common security interests, their commitment to the strategic partnership and future areas of security cooperation."
"The two leaders also discussed recent developments in Afghanistan and the need to continue to cooperate on security and development in the region," he said.
Hagel conveyed that the prime minister's visit had been a great success and has laid the foundation for deepening cooperation between the two countries, Kirby added.
Meanwhile, US Assistant Secretary for South and Central Asian Affairs Nisha Desai Biswal told a media roundtable Thursday that US and India were lining up a "pretty ambitious agenda" of engagements over the next few months to move forward on things specifically discussed during the summit.
Asked about joint and concerted efforts to dismantle all safe havens for terror and disrupt all financial and tactical support specifically to four Pakistan based terror groups as agreed in the US-India joint statement, she said the two countries had strong and ongoing collaboration on counter-terrorism.
This included "sharing information and intelligence capabilities to essentially advance our shared objective of security."
The joint statement had specifically mentioned besides Al-Qaeda, Pakistan based Lashkar-e-Taeba, Jaish-e-Mohammad, the Haqqani network and the D-company, a reference to the network of underworld don Dawood Ibrahim believed to be living in Pakistan.
Asked if US-India cooperation would extend to drone strikes as well, Biswal declined to discuss operational issues, but said "we are certainly talking about different actions we are taking ourselves through US airstrikes against Islamic State for example."
US, she said was also open to "conversations with all of our partners in the region about what role they want to play and how they can be helpful in those efforts."