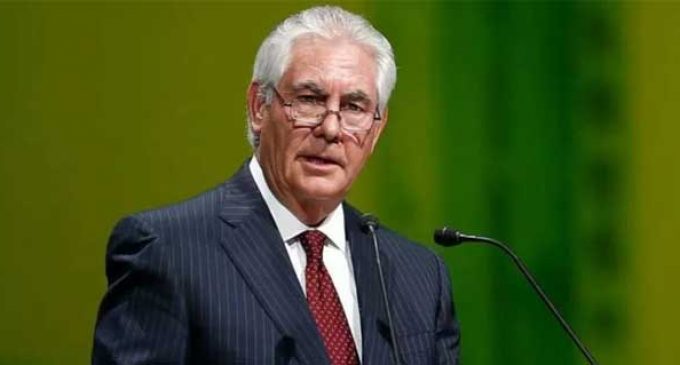 Washington, Dec 7 US Secretary of State Rex Tillerson has that the State Department will "immediately" act on President Donald Trump's order and start preparations to move the American embassy in Israel from Tel Aviv to Jerusalem.
Earlier on Wednesday, Trump announced in a televised speech that he officially recognises Jerusalem as the Israeli capital and instructed the State Department to relocate the US embassy to the city, reports Xinhua news agency.
Tillerson, who is on a Europe visit, said in a statement on Wednesday night that the US has consulted with "many friends, partners and allies" about the relocation ahead of Trump's decision.
Though hailed by Israel, Trump's announcement immediately drew strong opposition and widespread criticism from Arab and European countries that such a move would inflame tensions and fuel violence in the Middle East.
Tillerson said that the US had taken measures to protect Americans in the region.
"The safety of Americans is the State Department's highest priority, and in concert with other federal agencies, we've implemented robust security plans to protect the safety of Americans in affected regions."
Trump's announcement marked a dramatic departure from his predecessors' foreign policy.
Although the US Congress passed the Jerusalem Embassy Act of 1995 which required the relocation of the embassy from Tel Aviv to Jerusalem, former Presidents, including George W. Bush, Bill Clinton and Barack Obama, consistently renewed a presidential waiver to delay the relocation out of consideration for national security interests.
The status of Jerusalem, revered by Muslims as the third holiest site in Islam and the holiest site by Jews, lies at the core of the dispute between Israel and the Palestinians.
The international community does not recognise Jerusalem as the capital of Israel and no foreign countries have their embassies in the city.