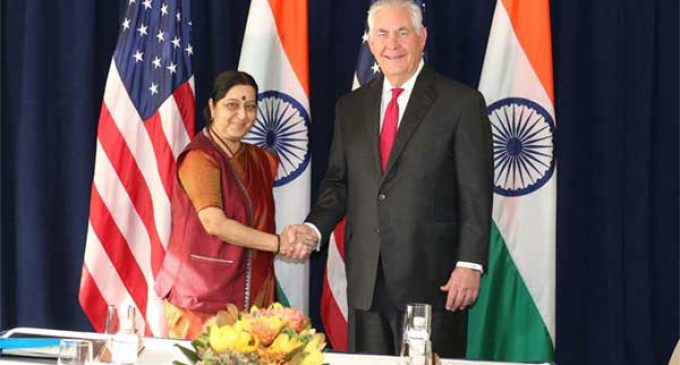 New Delhi, Oct 25  External Affairs Minister Sushma Swaraj on Wednesday met US Secretary of State Rex Tillerson who is on his first visit to India in his official capacity.
"Strengthening strategic partnership. EAM @SushmaSwaraj welcomes US Secretary of State Tillerson, his first India visit as Secretary of State," External Affairs Ministry spokesperson Raveesh Kumar tweeted.
The meeting assumes significance given Tillerson's remarks on boosting India-US ties ahead of his arrival here on Tuesday evening.
During an unannounced visit to Afghanistan on Monday, Tillerson explained that the US approach was that the scope of its relationship with India was not confined to South Asia, but went beyond Pakistan's regional interests to a wider area stretching across the Indian and Pacific Oceans and having global implications.
"Our view of the relationship with India is one that's of strategic importance not just for this specific region, but in the context of that speech it was about a free and open Indo-Pacific region stretching all the way to – from Japan to India," Tillerson said. "So it's a broader relationship."
Last week, in an address on 'Defining Our Relationship with India for the Next Century' at the Center for Strategic and International Studies in Washington DC, he made clear Washingtons position on key geopolitical and strategic matters pertaining to the Indo-Pacific and South Asian regions, saying the "Trump administration is determined to dramatically deepen ways for the United States and India" to further their strategic partnership that is heading for "strategic convergence" and put China and Pakistan on notice that it intended to "do what is needed" to support India.
While asserting that China's "provocative actions" went against the international law and norms that the US and India stood for, he made it clear that Washington expected Pakistan to take "decisive action" against terrorist groups operating within its territory.
On Tuesday, during a meeting with Pakistan Prime Minister Shahid Khaqan Abbasi in Islamabad, Tillerson reiterated US President Donald Trump's message that Pakistan must increase its efforts to eradicate militants and terrorists operating within the country.