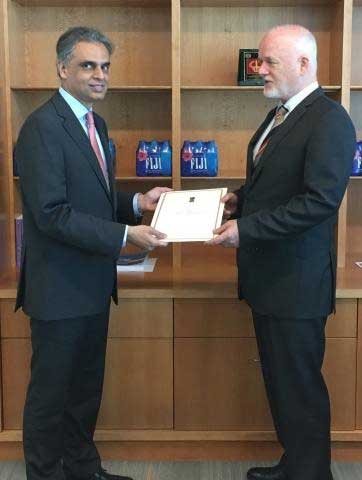 United Nations, Aug 25  Sustainable development will be high on the agenda when General Assembly President-elect Peter Thomson visits India next week and meets Prime Minister Narendra Modi.
"My main interest will be to discuss how the UN can assist and accelerate the implementation of the 2030 Agenda for Sustainable Development," he said in a statement before his departure Wednesday.
The 2030 Agenda is a set of 17 goals for global development adopted in 2015 by world leaders with 2030 as the deadline for meeting them.
Thomson, who is currently Fiji's permanent representative to the UN, was elected in June as the president of the Assembly's 71st session that starts next month. He will succeed Mogens Lykketoft of Denmark.
During the next Assembly sessionm Thomson will play a crucial role in reviving the Security Council reform process — an issue of importance to India — that has stalled in the current session after a promising start. He has in the past criticised the slow pace of Council reform and called for greater efforts by UN members to deal with it.
On Monday, he is scheduled to meet Modi, according to the Assembly president's spokesperson Dan Thomas. Meetings have also been set up with External Affairs Minister Sushma Swaraj and Sujata Mehta, the ministry's Secretary West.
Before going to Delhi, he will visit Beijing to meet Chinese Prime Minister Li Keqiang and Foreign Minister Wang Yi.
"Coming from the Asia-Pacific nation of Fiji, I am pleased to have this opportunity to visit the two biggest countries in the regional group to which I belong," he said.
The Assembly president's office has a limited budget, which constrains the official's activities and in the past has led to presidents seeking outside help. Last month India contributed $250,000 to a fund to assist with running the president's office independently.
Handing over the contribution, India's Permanent Representative Syed Akbaruddin said that as a fellow developing nation from the Asia-Pacific region, India was supporting the president's office.
Thomson has a wide range of international leadership experience. He was the vice president of the General Assembly in 2010-11. He has also been the chair of the developing nations' Group of 77 to which India belongs, and the chair of the executive boards of both the UN Development Programme (UNDP) and the UN Population Fund (UNFPA).