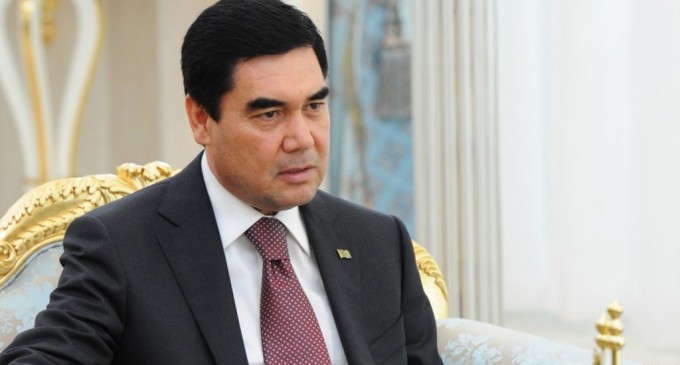 New Delhi, April 9 Turkmenistan is looking forward to receiving Prime Minister Narendra Modi during his visit to the Central Asian country later this year, President Gurbanguly Berdimuhamedov told visiting External Affairs Minister Sushma Swaraj.
Sushma Swaraj called on the president during her visit to Ashgabat.
She was in Turkmenistan for the fifth meeting of the India-Turkmenistan Inter-Governmental Commission (IGC) for Trade, Economic, Scientific and Technological Cooperation, held on April 8.
During her meeting with Berdimuhamedov, Sushma Swaraj underlined Turkmenistan's strong commitment to further develop bilateral ties with India and conveyed that he looks forward to receiving Modi during his visit to Turkmenistan later this year.
The two leaders held detailed discussions on initiatives and measures to further develop bilateral relations in energy, science and technology, defence, culture and connectivity, said an external affairs ministry statement here on Thursday.
India and Turkmenistan agreed on joint efforts to expedite implementation of the Turkmenistan-Afghanistan-Pakistan-India (TAPI) pipeline project during Sushma Swaraj's visit.
Sushma Swaraj also held talks with her Turkmenistan counterpart Rashid Meredov on bilateral, regional and international issues, including developments in Afghanistan, the external affairs ministry statement said.
The two ministers co-chaired the Inter-Governmental Commission, which focused on measures to enhance trade, scientific and cultural cooperation.
The Turkmenistan side welcomed India's proposal to set up a urea manufacturing facility in Turkmenistan and opening a representative office by ONGC Videsh Ltd in Ashgabat, said the statement.
The external affairs minister also discussed bilateral cooperation in culture, including celebration of International Day of Yoga in Turkmenistan, with Maysa Yazmuhammedova, deputy prime minister for culture and media of Turkmenistan, during the visit.
She also interacted with Turkmen students studying Hindi at the Azadi Institute of World Languages in Ashgabat.