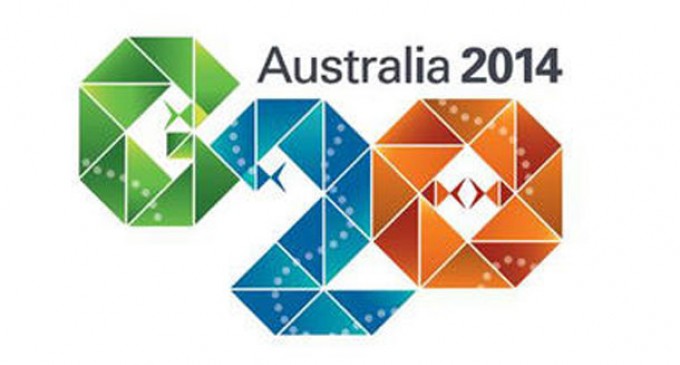 Indian PM Visiting Brisbane Nov 14 for G-20 Meet
By TN Ashok   / Political Editor
New Delhi, Nov 06 India is expected to play a dominant role at the upcoming G-20 summit at Brisbane, Australia championing the cause of developing countries on economic issues ranging from energy security to climate change as Prime Minister Narendra Modi begins his five day  Australia visit November 14.
Prime Minister Modi leaves India first for Myanmar to attend the East Asia Summit and proceeds to Australia from there.  Modi will be in Brisbane for three days from November 14 not only participating in the G-20 Summit but also engaging in bilateral meetings with counterparts of the member countries of the group, Suresh Prabhu, Special Envoy (Sherpa) of Prime Minister Modi to the G-20 Brisbane Summit said.
Prabhu, a former energy and environment minister in the BJP led NDA government,  is speculated as being inducted into the Modi government with a key portfolio in the much awaited cabinet expansion on November 10.
Prabhu told newsmen today that economic issues will be the highlight of the G-20 summit and India will argue forcibly on issues concerning the developing world. Given the background of economic recession that struck the world in 2008 and the slow recovery taking place , India is likely to tell the G-20 nations that India will have much to contribute to the anticipated 2% GDP growth rate of global economy.
The G-20 Finance Ministers had met in Cairns in Australia recently and issued a communiqué to say there is "no room for complacency" and that they must commit to develop new measures to foster growth. While the developed countries are cobbling together to raise global economic growth to 2% of GDP, there is no clear action plan as yet on this.
With China's economy cooling off, India is likely to be the focus for growth for much of the developed countries at the G-20 summit, he said adding India for sure will contribute substantially.
Prabhu said India had now emerged as the world's largest recipient of remittances from non resident Indians (NRIs) overtaking China and Phillippines with remittances of US $ 71 billion . To ensure that these remittances don't come at a high cost, India will urge the G-20 nations to slash the transactional cost of such outward flows from their countries.
" What is the point if an NRI remits US $ 10,000 and US $ 1,000 is deducted by banks in these countries as transfer costs ", he said.
Prabhu said globally there has been a demand among developing countries to limit such transactional costs to just just 3.5% of the total amount transferred from the existing 10% which was considered too high.
A world bank report estimates that the value of remittances by non residents of developing countries to their homes would touch US $435 billion this year. India has the world's largest emigrant stock of workers at over 14 million spread across the globe.
As G-20 countries account for 90% of the world's GDP, India will push for strong action on the climate change issue ahead of the next round of negotiations on the climate change issue coming up at Lima , Peru in south America.
Prabhu said that India will push for energy security of developing nations at the summit. "We want changes in the global energy mix. There should be more transparent changes in moving towards renewable and clear energy," he said pointing out that the G20 summit would also have deliberations on issues relating to the gas market.
Gas in its natural form can be transported in an economically feasible manner only by pipelines from the source of supply. If that is not possible, he said obviously hinting at geo political factors inhibiting the laying of cross country pipelines , then gas can be transported only by liquefying them, that is Liquified Natural Gas (LNG).
But the costs of transporting such gas are enormous as they have to be moved over vast distances by container ships, he said.
Touching on the issue of government efforts to unearth black money from overseas, Prabhu said India as a member of the G-20 was committed to achieve  a global response to deal with cross border tax avoidance and evasion.
Tax evasion will be a key issue at G20's upcoming summit, Prabhu said adding deliberations would be on a timeline for implementing the common reporting standards for automatic exchange of tax information by 2017. Focus will be on steps to deal with Base Erosion and Profit Sharing(BEPS), where globally operating firms shift profits to low or no-tax jurisdictions, he said.
"There will be a new platform, a new regime and common reporting standards," Prabhu said, giving a broad overview on the G20 priorities at the summit.
An action plan to deal with BEPS is expected to be finalised by 2015 to make sure companies pay their fair share of taxes. The BEPS initiative would ensure that tax is paid where profits are made.
Reports from international media indicate that India failed to attend an OECD meeting last month  in Berlin where a multilateral agreement requiring a commitment to follow international standards of confidentiality for information received relating to black money was signed.
India was not able to attend the Berlin meeting where such an agreement was signed, official sources indicated but did not details reasons on the failure.
The Government of India had to give an international commitment that it would follow international standards on information received.  At the meeting of the Organization of Economic Cooperation and Development (OECD), 51 countries signed the agreement to share financial data and boost efforts to crack down on tax evasion.
Finance Minister hailed as a watershed the transparency drive, which will launch the automatic exchange of tax information between countries. The agreement takes the battle of financial authorities and regulatory bodies to the front gate of tax dodgers.
Prabhu also said that taxation issues relating to ecommerce required consideration of the G20 countries. "There is some progress but lot needs to be done," he added.
The Prime Minister's visit to Australia includes visits to Sydney ( Nov 17) , Melbourne (Nov 18) and then return to India.