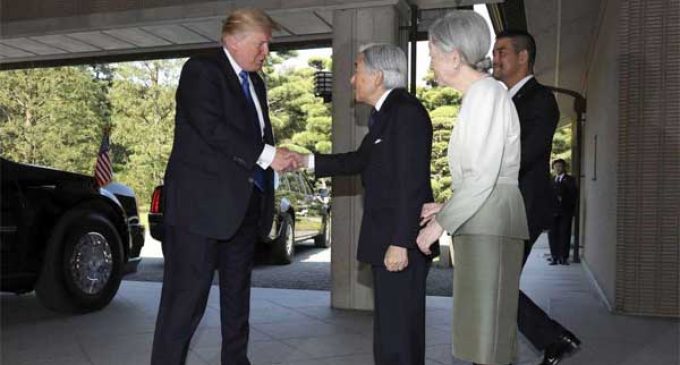 Tokyo, Nov 6 US President Donald Trump and First Lady Melania Trump on Monday met Japanese Emperor Akihito and his wife, Empress Michiko at the Imperial Palace in here.
Trump arrived here on Sunday, the first leg of his extensive five-nation tour through Asia, reports CNN.
The leaders greeted and shook hands before entering the Imperial Palace.
Trump's next stop will be to receive a Guard of Honour at the State Guest House where he will hold talks with Prime Minister Shinzo Abe, Japanese public broadcaster NHK reported.
Ahead of the meeting, Abe told mediapersons: "I'd like to thoroughly discuss with President Trump North Korea and other problems the international community faces. And I want to send a message to the world that the Japan-US alliance is unwavering."
Trump started his day by meeting with Japanese and American business leaders.
"We want fair and open trade. But right now our trade with Japan is not fair and it's not open. But I know it will be soon.
"We want free reciprocal trade, but right now trade with Japan is not free, and it's not reciprocal. And I know it will be," the President said.
Later on Monday, Trump will meet with the families of Japanese nationals abducted by North Korea.
The abduction issue is something Japan wants to resolve along with the nuclear threat.
Trump's first-ever visit to Japan comes amid heightened tensions with North Korea over its nuclear programme and missile tests.
Pyongyang launched two ballistic missiles over Japan and has threatened to conduct a hydrogen bomb test in the Pacific Ocean.
Upon his arrival on Sunday, Trump addressed servicemen at the US-controlled Yokota Air Base near Tokyo.
Trump and Abe will hold a press conference later on Monday.
After Japan, Trump will head to South Korea on Tuesday.