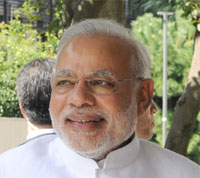 Tokyo/Kyoto, Aug 31 (IANS) Prime Minister Narendra Modi arrived in Tokyo Sunday evening, where a tight schedule awaited him, after a busy day in the former Japanese capital Kyoto where he visited two ancient Buddhist temples and sought Japan's help to combat sickle cell disease prevalent in tribal regions of India.
On Monday, Modi will be accorded a ceremonial welcome followed by summit-level talks in which the two sides will seek to take their strategic partnership to a new level. Agreements are expected to be signed in defence and the two sides would discuss cooperation in infrastructure, civil nuclear energy and production of rare earth materials.
Japanese Prime Minister Shinzo Abe, who, in a special gesture, received Modi in Kyoto, tweeted Sunday: ""Looking forward to seeing PM Modi again in Tokyo tomorrow."
"Will begin the day tomorrow (Monday) with a visit to Taimei elementary school followed by meetings, address at a Business Luncheon and tea ceremony," Modi tweeted on his part.
On Sunday, the first full day of his five-day trip to Japan, Modi also exchanged notes on heritage conservation with Kyoto Mayor Daisaku Kadokawa, showing him a detailed map of Varanasi, the Hindu holy city he represents in the Lok Sabha.
Modi, who arrived in Kyoto Saturday, began Sunday by visiting the Toji and Kinkaku-ji temples.
Dressed in a white kurta pyjama and bandhgala, Modi first went to the Toji temple with Abe.
Abe guided Modi around the Toji temple to take a look at its Buddhist statues and five-storied pagoda, which is a national treasure, Kyodo news agency reported. Modi also walked through the temple premises.
Abe said: "Looking at statutes of Buddha, we were reminded of the deep historical ties between Japan and India."
The chief monk of the 57-metre-tall eighth century shrine explained to him the features of the temple, a Unesco Heritage Site.
The two prime ministers rekindled "ancient India-Japan civilisational bonds with visit to Toji temple", an external affairs ministry spokesman tweeted.
Modi then went to the Kinkaku-ji temple, built in 1397, where he interacted with a number of visitors who greeted him enthusiastically, an Indian official statement said.
To its 83-year-old head priest Yasu Nagamori, Modi said: "I am Modi and you are Mori."
At Kyoto University, Modi visited the Centre for iPS Cell Research and Application and met stem cell pioneer Shinya Yamanaka, winner of the Nobel prize in 2012.
They discussed the "possibilities of sickle cell anaemia cure" and "prospects of cooperation among Indian and Japanese institutes".
Modi expressed concern over the prevalence of sickle cell anaemia, especially among the tribal communities across India. Yamanaka said he "would like Indian scientists to conduct research at the institute".
Mayor Kadokawa briefed Modi about "green, smart and modern yet historic Kyoto". Modi discussed with him Varanasi, which the BJP veteran is determined to turn into a modern city while retaining its ancient and religious roots.
Changing later into a dark mustard kurta and a light brown bandhgala, the Indian leader attended a luncheon hosted by the Kyoto Buddhist Association, met the Governor of Kyoto Prefecture, Keiji Yamada, and held talks with the CEO of Nidec Corp, Shigenobu Nagamari.
In his speech at the luncheon meeting, Modi said: "Kyoto is a modern city standing on a rich cultural foundation. It has successfully incorporated modern infrastructure with cultural heritage."
"We want to build similar heritage cities in India too and that's why I came here to learn and understand all about this city," he said.
Abe also tweeted about Modi's visit to Kyoto and said he was happy that the Indian prime minister toured the country's ancient capital. He said he had valuable exchanges with Modi on cultural ties and international affairs.
Modi and Abe met Saturday for about 90 minutes. The meeting was described by Indian officials as "exceptionally warm and friendly".
Within hours of Modi's arrival, a partnership accord was signed between Varanasi and Kyoto.
This is Modi's first bilateral sojourn outside South Asia since taking office in May.
On Tuesday, he will call on Japanese Emperor Akihito.