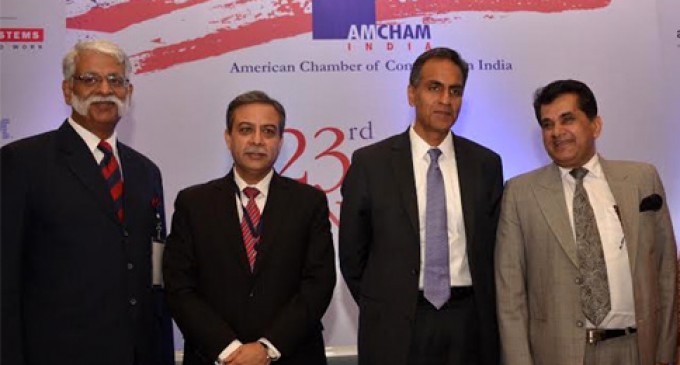 New Delhi, April 28 Describing Prime Minister Narendra Modi's "100 Smart Cities" as an area with "seemingly unlimited potential", US envoy to india Richard Verma on Tuesday said the initiative is a "largest" potential area for US investment and commercial cooperation.
Addressing the annual general meeting of the American Chamber of Commerce in India, Verma sought to develop a symbiotic relationship between US businesses and the US government that could work together to address challenges in way of becoming India's "best" partner, as per US President Barack Obama's vision.
"Cooperation on infrastructure development and Prime Minister Modi's 'Smart Cities' initiative" are "two of the largest potential areas for US investment and commercial cooperation".
The US envoy said the recent high-level visits from the US and India have shown that both sides recognise that in the century to come, a robust US-India partnership can achieve better results than acting alone.
"Times like these show just how true that is," he added.
With the strategic-plus partnership, Verma said, the two countries are expanding the scope of relationship by supporting cooperative effort in over 70 areas, ranging from space to vaccines.
He noted that "our bilateral trade in goods and services finally crossed that elusive $100 billion threshold last year and now stands at approximately $103 billion".
"We stand ready to work with our Indian counterparts to increase that mark to $500 billion," he added.
The recent Transportation Memorandum of Cooperation between the two countries deepened cooperation on items like road safety and includes important new activities related to the development of Smart Cities and sustainability, he said.
"On Smart Cities, we will look at intelligent transportation systems, multi-modal planning, livability, and infrastructure financing. On sustainability, we agreed to cooperate on vehicle fuel efficiency standards and promotion of dedicated freight corridors to facilitate the movement of goods from India's ports to major cities of the region," Verma said.
Impressing on "Shared Effort, Progress for All", the vision in common between Modi and Obama, the envoy said expanding the strategic dialogue to include a specific commercial focus would be an "excellent" way to prioritize key issues and activities of mutual interest.
"We are therefore formalizing the involvement of our commerce secretary and India's commerce minister in a newly reconstituted Strategic and Commercial Dialoguea to engage in productive, two-way trade and investment that supports jobs in both countries," he said.
"As India grows, so will its needs, not just in infrastructure, but also in health, education, energy, and other areas. The US government and industry can play a leading role in helping India manage this unprecedented growth," Verma added.
Three Memoranda of Cooperation have also been signed designating leading roles for US industry in smart city projects in Vizag, Ajmer and Allahabad, Verma highlighted.
The US also praised India for its "global leadership" by managing crisis internationally.
"India has demonstrated its global leadership in recent weeks, first in Yemen and now in Nepal. We are grateful; we are impressed; we are inspired," he said.
Verma also expressed grief, and condoled deaths in Nepal due to massive earthquake.