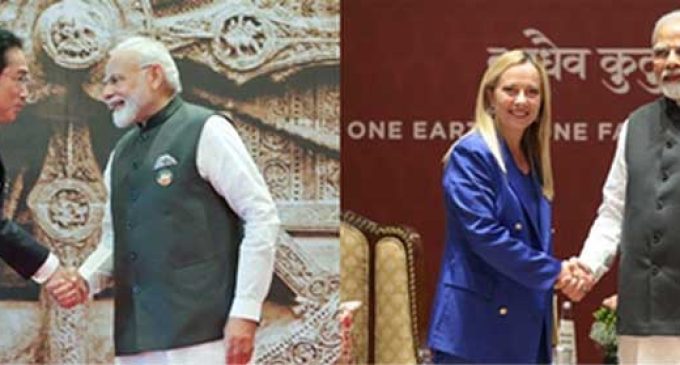 New Delhi, Sep 10 (IANS) Prime Minister Narendra Modi on Saturday held two separate bilateral meetings with Fumio Kishida, Prime Minister of Japan and Italian PM Giorgia Meloni, on the sidelines of the G-20 Summit in the national capital.
During the meeting, with the Prime Minister of Japan, the leaders acknowledged the constructive dialogue of the two countries throughout the year on their priorities for their respective G20 and G7 Presidencies, particularly in bringing the concerns and aspirations of the Global South to the fore, the Prime Minister's Office said on Saturday.
According to the PMO, the leaders held discussions on various facets of the India-Japan bilateral partnership, including on infrastructure development, technological collaboration, investments and energy.
Both leaders reaffirmed their commitment to further deepening the India-Japan Special Strategic and Global Partnership.
PM Modi also held a bilateral meeting with Giorgia Meloni, Prime Minister of the Italian Republic on the sidelines of the G20 Summit in Delhi.
This is the second visit of Prime Minister Meloni to India following her State visit in March 2023, during which bilateral relations were raised to the level of a Strategic Partnership.
Prime Minister Modi appreciated Italy's support for India's G20 Presidency and Italy's joining of the Global Biofuel Alliance and the India – Middle East – Europe Economic Corridor.
The two leaders noted with satisfaction the completion of 75 years of establishment of diplomatic relations between the two countries.
They also took stock of the progress in diverse areas of the India-Italy Strategic Partnership, and agreed to bolster cooperation in areas like defence and new and emerging technologies.
They noted the need for G7 and G20 to work in consonance for the greater global good, the official added.