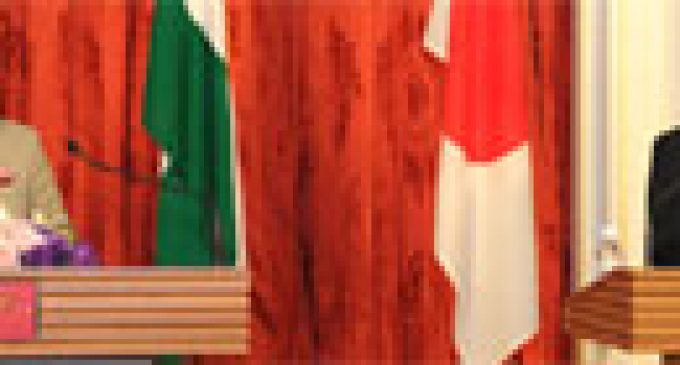 Tokyo, Sep 1 Prime Minister Narendra Modi Monday said relations with Japan were of the "highest priority" for his government and announced a slew of initiatives, including turning the strategic partnership into a "special" partnership and a fast-track channel for Japanese investors.
In his remarks at a joint press briefing with Japan Prime Minister Shinzo Abe, Modi said the two countries have agreed to instruct their negotiators to work expeditiously to conclude negotiations at an early date on the civil nuclear agreement.
Modi said India considers Japan among its "closest and most reliable partners".
Reflecting on his own personal bonding with Abe, Modi termed him "an old friend" and said he greatly valued the friendship with the Japanese prime minister.
Modi said he decided to make his first bilateral visit outside South Asia to Japan and was glad to have got the opportunity within 100 days of assuming office.
"Today, we have taken an important decision to elevate the relationship from Strategic and Global Partnership to a Special Strategic and Global Partnership," Modi said.
He said he was "greatly satisfied" with his discussions with Abe and the meeting greatly increased his "confidence, excitement and optimism" about the bilateral relationship.
In his remarks, Abe said he had fruitful exchange of ideas with Modi "on economy, culture and people-to-people" issues.
"We have to fundamentally improve our ties in every field to elevate our relationship into a special strategic partnership," he told the media.
Abe said political and security matters were also discussed and he and Modi agreed to enhance cooperation in maritime security.
"Through deeper and extended dialogue, the security cooperation between India and Japan will deepen further," Abe said.
Modi said Japan will play an increasingly important role in India's economic transformation.
On Japan's decision to realise $35 billion of public and private investment and financing to India over the next five years, Modi said he was deeply grateful to Abe and the people of Japan.
Modi said Abe had expressed strong support for his vision of India's development.
The Indian prime minister said the two countries intend to give a new thrust to their defence cooperation "given our shared interest in peace and stability and maritime security".
He said the two countries have decided to expand cooperation in advanced technology, science and technology, people-to-people exchanges, educational exchanges, non-proliferation, UN reforms, space security, cyber security and in regional forums of the region such as East Asia Summit.
Modi said India and Japan were the two oldest democracies in Asia and among its three biggest economies.
"Our relationship will have a global impact. This is because if the 21st century is an Asian century, then Asia's future direction will shape the destiny of the world," he said.
Modi said that as part of the commitment to translate the "boundless potential" of mutual ties, he would introduce special mechanisms like "Japan Fast Track Channel for Japanese investors in India".
On the civil nuclear cooperation, he said the two sides have made significant progress in their negotiations and achieved better understanding of each other's positions.
"Today, we have discussed this issue at length. We have agreed to instruct our negotiators to work expeditiously to conclude the negotiations at an early date so that we can further strengthen our strategic partnership."
He said Japan's decision to remove several Indian entities from the Foreign End Users List, the memorandum of understanding on defence exchanges and agreement for collaboration on defence technologies reflect the new level of mutual trust to deepen the strategic partnership.
"No relationship in India commands the level of public consensus as our relations with Japan does," Modi said.
Thanking Abe for his hospitality and his bold vision for the bilateral relationship, Modi said he was confident that the two sides "may see the beginning of a new journey".
"I am confident that we will harness the full potential of this relationship very soon," he said.
Modi also referred to agreements in health, roads, clean energy and women's development and the Kyoto-Varanasi partnership agreement.
He said the agreements recognise "the ancient foundations of our modern partnership and the unwavering goodwill and affection between our people".