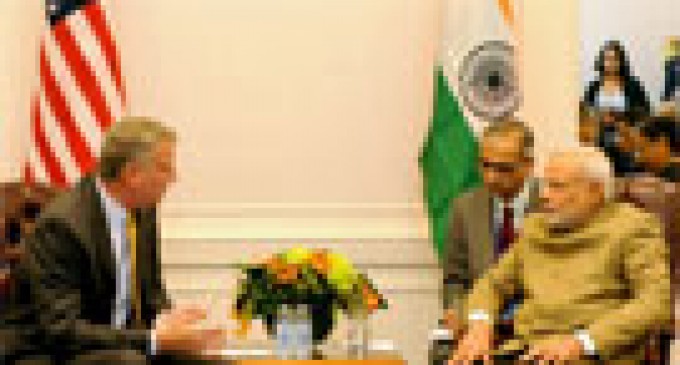 New York, Sep 27 Within hours of landing here, Prime Minister Narendra Modi got down to business Friday, discussing urban and anti-terrorism issues with New York Mayor Bill de Blasio and health matters with a Nobel laureate, Harold Varmos.
With both of them, he sought avenues for cooperation and looked for what can be applied from their programmes to India, External Affairs Ministry spokesman Syed Akbaruddin told reporters.
In discussions on policing with de Blasio, he sought to know how the city is coping with the post-9/11 situation and what security measures the city has taken. They discussed "the common threats the cities faced" and looked for avenues of possible cooperation, Akbaruddin said.
Another point in their discussion was crowd control and how New York police managed it – although it was also noted that crowds like that at the Kumbh Mela exceeded any that New York would see.
On urban issues, they talked abut quality of life in New York and the prime minister wanted to know what are the issues that de Blasio faces because Modi wants to rejuvenate Indian cities, Akbaruddin said. Housing was an area of interest to Modi and they talked about the mayor's plans to build housing units to accommodate 500,000 people over a ten year period.
With de Blasio's keen focus on education, that was another shared topic of conversation. The disparities in educational facilities – which is referred to as "two cities" within a city — came up and Modi asked the mayor about his plans to raise taxes to pay for education. De Blasio wants to raise taxes on those earning more than 500,000 US dollars per year to pay for his ambitious plan of providing free pre-kindergarten – or nursery-level classes – for all New York children to give everyone an early start in education. This was one of the planks of Democrat de Blasio's successful election campaign last year.
Modi's other guest, Varmus, is the director of the National Cancer Institute, who won the 1989 Nobel Prize for medicine for his discoveries relating to the role of genes in causing cancer. Varmus had done an internship in the 1960s at a hospital in Bareilly.
Akabaruddin said Modi invited him to visit India to promote research into cancer. And said there were possibilities for cooperation between research institutions in the two countries. They also discussed heath matters like the role of obesity and diabetes in causing cancer. Varmus, like de Blasio, complimented Modi for his actions to curb smoking.
Modi's public appearances start at 7:30 a.m. Saturday, when he goes to the 9/11 Memorial – also known as Ground Zero – which is the site of the World Trade Center that was destroyed by terrorists in September 2001. He will honor the more than 3,000 victims of the attack and visit the 9/11 Museum.
His last event for the day is a meeting with a group of "distinguished Indian Americans" that starts at 8 p.m.
In a day packed with a whirl of activities, Modi will in between the two events address the United Nations General Assembly and stage a round of neighborhood diplomacy meeting Sri Lankan President Mahenda Rajapaksa and Prime Ministers Sheikh Hasina of Bangladesh and Sushil Koirala of Nepal.
Other events include a meeting with Sikhs from US and Canada and participation in the Global Citizen Festival at the Central Park.