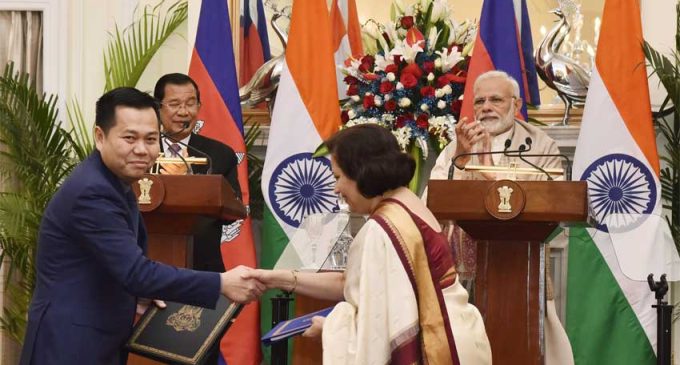 New Delhi, Jan 27 (IANS) India and Cambodia on Saturday signed four agreements, including on a credit line for a water resource development project and on prevention of human trafficking, following delegation-level talks headed by Prime Minister Narendra Modi and his Cambodian counterpart Hun Sen here.
A credit line agreement of $36.92 million was signed between the EXIM Bank of India and the Cambodian government to finance the Stung Sva Hab Water Resource Development Project, according to the External Affairs Ministry.
A cultural exchange programme with Cambodia for the years 2018-2022 was signed which seeks to promote cultural exchange and strengthen the friendly relations between India and Cambodia.
An agreement on mutual legal assistance in criminal matters was signed which is aimed at improving the effectiveness of both countries in the prevention, investigation and prosecution of crimes through cooperation and legal assistance in criminal matters.
A memorandum of understanding (MoU) was also signed on cooperation for prevention of human trafficking. It seeks to increase the bilateral cooperation on the issues of prevention, rescue and repatriation related to human trafficking.
Hun Sen, who arrived here on Wednesday to participate in the Commemorative Summit to mark 25 years of the India-Association of Southeast Nations (Asean) Dialogue Partnership and was among the all 10 heads of government or state of Asean nations to be guests of honour in this year's Republic Day celebrations, extended his trip to that of a bilateral state visit on Saturday.